YBLTV Review: Defender of Earth Vs The Alien Armada from Monkey Wrench Studio 
A New Defender
Monkey Wrench Studio, Inc. presents a new tower defense game to the genre, in Defender of Earth Vs The Alien Armada. Take the reigns of Earth's defense against 3 alien races, as they seek to destroy our home.
Your mission is to allow the last of Earth's evacuation ships to deploy, before the Verookuzan and their friends destroy the planet. As one might expect, each race has their own strengths and weaknesses. One race may be weak to energy-based attacks, while another may be nearly immune to them. It is up to you to decide what arsenal to use, and where to best defend your territory.
Tech Tree
Defender of Earth comes with a one-of-a-kind Tech Tree, allowing you upgrade each of the 8 weapons towers. You can also improve your recovery rates during the game. Are you not getting enough scrap to rebuild? There's an option for that. You can even swap credits for scrap, and vise versa, if that's what you need.
Unique Maps
A unique feather in the cap of Defender of Earth is their map system. Sixteen different maps available to play. Each with winding pathways, asteroids and satellite stations to anchor your weapons towers. What you will not find in most games however, is their 3-dimensional map play.
Defender of Earth employs the depth of 3D maps to increase the difficulty for its players. The gameplay begins with a top-down approach, and offers both mouse and keyboard functions to work your camera angles. This can be a bit cumbersome at times, as the maps can be big enough that it is difficult to move efficiently.
Trying to remember which buttons will reset your camera, while using the mouse buttons for both camera and weapon positioning can feel a bit overwhelming at first. With a bit of practice though, these moves became much easier to maneuver.
Monetary System
Every game has a monetary setup, and this one is no different in that regard. Defender of Earth offers two values for your constructing consideration. Credits and scraps. You will earn a portion of both of these based on the number of enemy ships you are able to destroy. Inside the Tech Tree, you can increase these rates to an extent, or even trade them for one another, if your balances are a bit uneven.
As I was entering the sixth level, I had my credit and scrap percentages boosted, and the numbers were skyrocketing. The string of numbers were so large that they ran into one another. Then, I encountered my glitch: I think I broke the bank, as my currencies repeatedly reset to 0 after that. If I watched them quickly enough, I was still able to craft a few weapons towers or enable an upgrade. These were too little to win the battle however.
A combination of the difficulty in figuring the enemies' weaknesses and the financial glitch I encountered led me to put the game down for a break. As of this review, I am in the process of relaying my (minor) issues to the developer, so they can patch these for future players.
Those looking to find Defender of Earth Vs The Alien Armada can find it through GameJolt.com
Pros
3 vastly different races
impressive array of weapons
16 varying stages of difficulty
Cons
Unusual camera work
Glitch in funds unsettling
Specs
Quick loading 512 MB file size
Impressive visuals
Customizable Tech Tree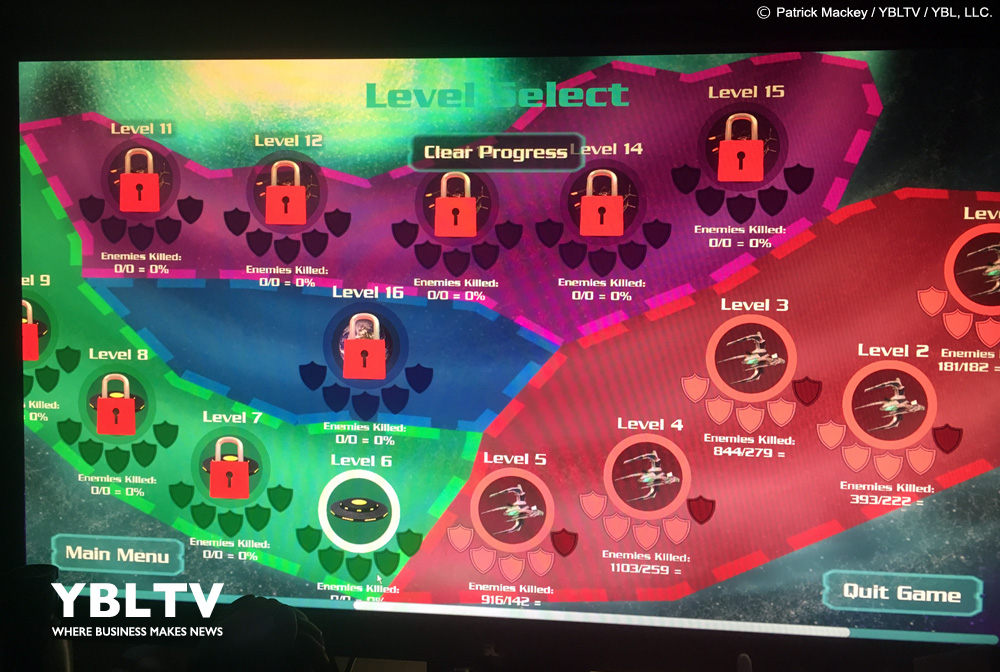 "Defender of Earth Vs The Alien Armada is an incredibly enjoyable and challenging spin on the tower defense genre from Monkey Wrench Studio Inc." - Patrick Mackey @Mackeyp42, YBLTV Writer/Reviewer
Final Thoughts
Defender of Earth Vs The Alien Armada is an incredibly enjoyable and challenging spin on the tower defense genre. Each level has an increasing number of waves of enemies, bringing the difficulty up with them. Weapons and jammer beacons available to customize each run bring you plenty of possibilities.
There were a few locations that had limited choices for deployment, which I questioned. That did not hinder my attempts at turning my enemies in to piles of scraps. If you're looking for a new take on the tower defense, I would certainly recommend giving Defender of Earth Vs The Alien Armada a try. You will feel driven to figure out how to stop the aliens from destroying the Earth.
Please note: Version 1.4 is up and patched!
###
Disclosure of Material Connection: YBLTV Writer / Reviewer, Patrick Mackey received a complimentary Defender of Earth Vs The Alien Armada code for free from Monkey Wrench Studio, Inc. in consideration for a Product Review.