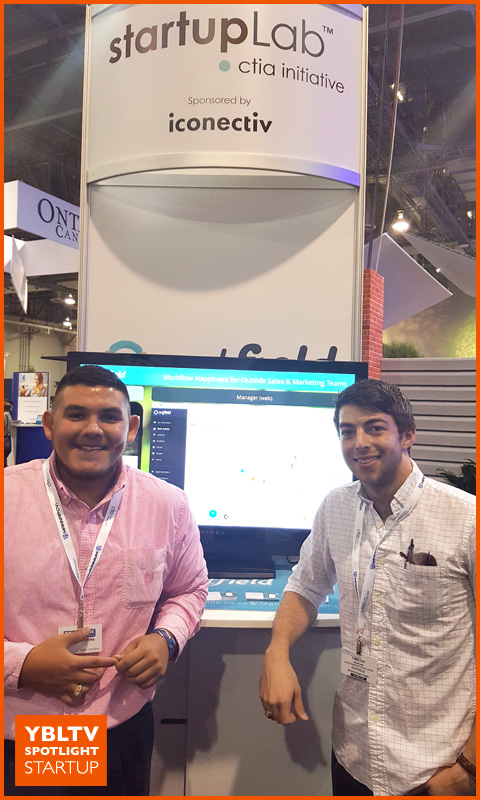 YBLTV: What is it the company does?
Outfield: Outfield is a mobile and web based application designed to support organizations with a team of field sales and marketing reps. The application:
Provides sales management with the ability to manage and learn how their remote reps are spending their time.

Provides market intelligence to organizations helping them understand the various markets that they are operating in better.

Boosts individual sales rep performance through better account management, team collaborations and synergies, as well as time efficiencies.
YBLTV: What inspired the company to start-up?
Outfield: We understand that the field marketing & sales space was ripe for transformation. Field sales operations have stayed relatively the same over the last ten years, while technology has evolved significantly. We realize that most companies aren't taking advantage of technology's evolution to its fullest potential to maximize their field sales.
YBLTV: How did you go about starting up, did you apply for funding or did you self-fund the project? If so, where did you secure funding from?
Outfield: We self-funded the project through a partnership with a large-sized company who needed an application to help manage their field sales reps. Through their vested interest we had the revenue to build a business around Outfield.
YBLTV: Where do you get advice, support and/or help?
Outfield: We have advisors on our team that specialize in various parts of our operations that we look to for guidance. We also have subject matter experts in our extended network of associations that provide us with powerful knowledge that help us execute.
YBLTV: What has been your biggest challenge so far?

Outfield: From a development operations perspective, we are pretty good. It took us awhile to put in place a system that allows us to be pretty good. Our goal is to be excellent so that our time estimations are accurate and our resource allocations give us the best return on investment.
YBLTV: What is your next big target?
Outfield: We've been bootstrapping the first 18 months. Our next big target is to raise capital to expand business operations.
YBLTV: What is the best and worst thing about being a Startup?
Outfield: The rollercoaster. Most days are really good, but it's the tough days that make good days most enjoyable. We have to find minor victories in everything that we do. The hardest part of working in a startup for us is the uncertainty. Every day is different and we are constantly trying to de-risk the uncertainties that go along with being a startup.
YBLTV: What makes this idea different?
Outfield: Most CRMs are designed to support inside sales opportunities. Outfield is one of the only options in the marketplace to support outside sales & marketing activities. We're different in terms of value proposition, but more importantly it is our team that makes us special. Our ability to execute along with a desire to make an impact is what distinguishes us from most startups.
YBLTV: Who would be your dream customer?
Outfield: The US Census Bureau
YBLTV: How do you see the mobile landscape evolving in 2016 and beyond?
Outfield: Over time we'll incorporate more data driven analytics and artificial intelligence to support reps while they are in the field. We believe that by adding these attributes to Outfield both sales managers and field reps will be able to reach their goals at a higher rate.
###
Connect with Outfield
Business Name: Outfield
Owner Name: Two Cents Venture Group
Website: www.outfieldapp.com
Twitter: @outfieldapp
Facebook: https://www.facebook.com/outfieldapp/
LinkedIn: https://www.linkedin.com/company/outfield