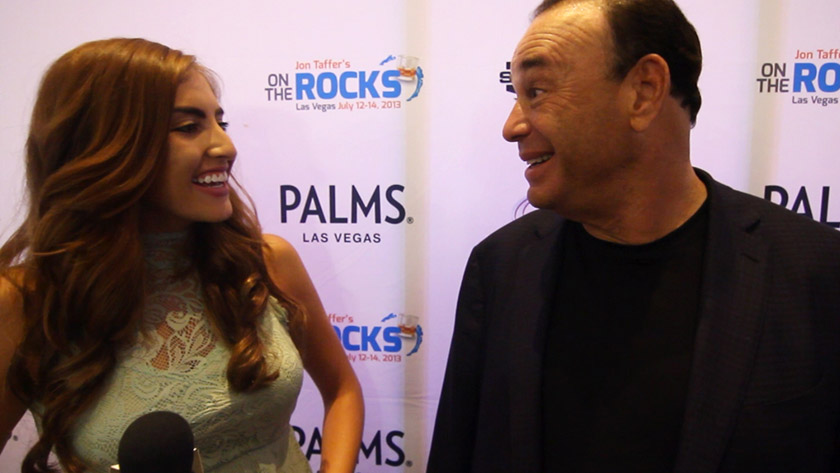 On Friday, July 12th, Jon Taffer, star of Spike TV's "Bar Rescue" hosted the first annual On The Rocks Las Vegas. This 3-day festival kicked off with a Meet & Greet with Jon Taffer at SOCIAL at the Palms Casino Resort. Watch our interview with Mr. Taffer - hear his secrets to a successful business, the do's and no's that bar owners should follow in order to give their customers the best time they could possibly have, and to make them want more and more!
On The Rocks Las Vegas guests then headed upstairs to The View for a VIP Bar Rescue Party with hosted bar and live entertainment. The party doesn't stop there! This weekend On The Rocks Las Vegas has an awesome schedule of renowned DJs on the line-up including: Tiesto, Lil Jon, Laidback Luke, Martin Solveig, Rebecca and Fiona, AN21 & Max Vangeli, DJ Vice, Markus Schulz, DJ Crooked, EC Twins, Javier Alba, Joe Maz, Eric D-Lux, Dash Berlin, Madeon, DJ Gusto, and more! Headliner events include: XS, Marquee, TAO, Pure, Tryst, Lavo, Hyde, LAX, Hakkasan, Gold Diggers, Moon, Gallery, Chateau, and Body English. This weekend guests will cool off at 8 of the hottest pools in Vegas including Sapphire Pool & Dayclub, Wet Republic, TAO Beach and Marquee Dayclub.
Follow Bar Rescue as they continue with their series around the nation exploring places that no other human being would dare to explore because of the mundane conditions in which they are found, the magic of transformation and new beginnings.
Be sure to watch our other interviews with Mr. Taffer on our show. Thank you for visiting YBLTV and don't forget to Like YBLTV if you like us and Follow YBLTV to keep informed of other exciting interviews with industry leaders, entrepreneurs, fortune 500's and lots in between! 😉