YBLTV Giveaway: Gentle Giant Ltd. / 3D Systems - Leia (Hoth Outfit) Jumbo Figure
YBLTV Giveaway: Gentle Giant Ltd. /3D Systems - Leia (Hoth Outfit) Jumbo Figure
One of the things I love the most about attending trade shows is that you get to meet some of the smartest people on the planet. People at the top of their game. People who through adversity pursue their dreams through thick and thin, by hook or by crook… They take their ideas and make them come to life. And then they sell them. Big time…
One of my most favorite trade shows is the Licensing Expo held once a year in Las Vegas, NV. What an absolute dream to attend. I love seeing all of the different characters, animation, toys, books, dolls — you name it — all which at one time - were just a thought… an idea.
Where would the world be without a Star Wars? Or a Harry Potter? Batman or Wonder Woman? Where would we be without their truly wonderful action figures our kids play with on Christmas morning under the tree? Where would we be without Wacom and their Cintiq tablets or 3D printing from3D Systems? We wouldn't be having nearly as much fun. Nor would anyone be making nearly as much money in the licensing industry!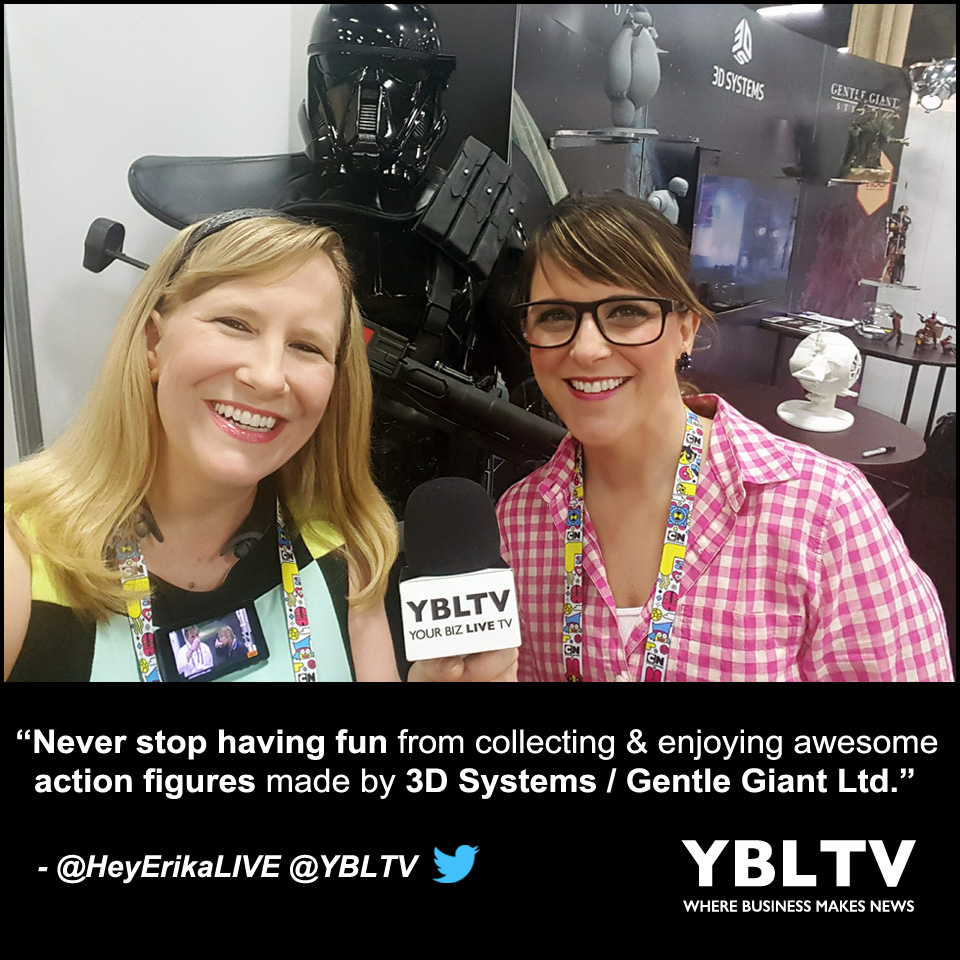 It is an incredible joy to go behind the scenes at trade shows and learn how someone's ideas come to be. How something is made. How things are mass produced. How characters such as Princess Leia are licensed or franchised.
I so enjoyed hearing the knowledge, passion and creativity from 3D Systems /Gentle Giant Ltd.'s Director of Product Development, Ashly Powell about the current landscape of the 3D printing industry. Here on YBLTV, we've interviewed several companies who specialize in 3D printing. It's one thing to see just a 3D model of a shoe or a basketball or whatever you want a 3D printer to print— but it's another thing to see and hold in our hands action figures like Darth Vader or Spider Man — objects that have been assigned a life of their own that we continue to celebrate year after year - in our toy chest, in the movie theatre or at the water fountain on Monday morning with our colleagues.
Watch our video interview above with Ms. Powell to learn more about the ever-so-exciting world of 3D printing from industry pioneer and leader, 3D Systems. Let's give a big thanks to their Gentle Giant for their awesome Leia (Hoth Outfit) Jumbo Figure Giveaway - Enter to win!
"Never stop having fun from collecting and enjoying awesome action figures made by 3D Systems / Gentle Giant Ltd.," - Erika Blackwell, YBLTV Anchor / Multimedia Producer
About Gentle Giant Ltd.
Gentle Giant Ltd. designs, develops, and manufactures three-dimensional representations of beloved characters from a variety of franchise properties with worldwide name recognition. Utilizing the most advanced scanning techniques and a team of incredibly talented artisans, Gentle Giant digitally captures the likenesses of actors, props, and scenery to accurately recreate these images for fans and collectors everywhere.
About 3D Systems
3D Systems is pioneering 3D printing for everyone. 3DS provides the most advanced and comprehensive 3D design-to-manufacturing solutions including 3D printers, print materials and cloud sourced custom parts. These solutions are used to rapidly design, create, communicate, plan, guide, prototype or produce functional parts, devices and assemblies, empowering customers to manufacture the future.