YBLTV Review: PIQS Virtual Touch Projector by Butterfly Technology
When it comes to man caves, men know what gadgets and toys they want. Normally at the top of the list is a big screen TV. You know the TV's I am talking about. The ones that can cost three or four grand and take up an entire wall. This time there is a smarter and less expensive solution.
New to the US market, PIQS Virtual Touch Projector by Butterfly Technology is what I can only describe as a smart TV in projector form. The PIQS Virtual Touch Projector is basically a small computer powered by Google Android Operating System — yes, the very same Android Operating System that Android Phones run on. This means that many of the same apps that you download onto the Android Phones can also be used on the projector.
You can view Netflix, Amazon Prime, Hulu — all off of apps installed within the projector. The projector even has the option to connect wirelessly to cell phones and other portable devices. That way you can watch that movie that you downloaded onto your tablet through the projector.
"PIQS Projector by Butterfly Technology is what I can only describe as a smart TV in projector form, " - Jack X, YBLTV Writer / Reviewer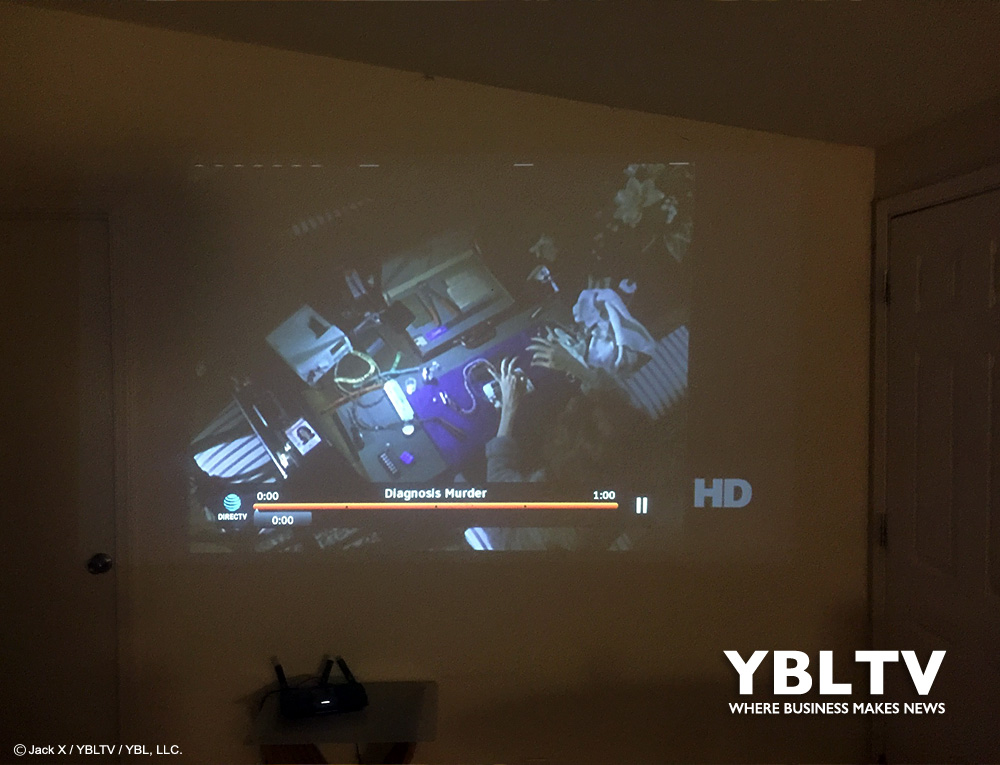 But Jack, what if I want to watch TV from my television provider? The PIQS Virtual Touch Projector has a single HDMI input in the back. This way you don't have to worry about missing your favorite show. Now, you can view TV on the big screen as well. The best part? No switching input selections, no having to select HDMI input in settings; instead the projector automatically detects when an HDMI signal is active. PIQS even includes an HDMI cable in the box. The best use of the projector I found was with video games. I hooked the projector up to my Playstation 4 and started playing. The two games I played when testing were Minecraft Playstation 4 Edition and Horizon Zero Dawn. I used Minecraft mainly to test how well colors in the game appeared when projected. Colors and pixels look amazing through the projector. Images projected look better than even on most large screen TV's I have seen. Within an action game, response time between controller and screen is very important. That is where playing Horizon Zero Dawn came in. I wanted to see if there were any response time issues when playing games through the projector. As far as I could tell there were none. Gamers looking for an increase in image size may find the PIQS Virtual Touch Projector a great option. On a side note, the PIQS Smart Portable Projector Stand is sold separately.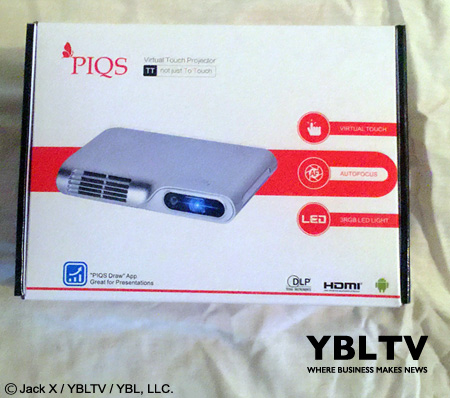 Specs*
Patented "Virtual Touch" Remote Controller & "Autofocus"
Quad-Core CPU & GPU with 2GB on board, 16GB Memory
DLP Optical System, Native HD 720p
3RGB LED Light - Eco and Standard Mode (30,000 hours Lamp Life)
Wireless streaming supported
HDMI, MicroSD, USB, Built-in Speakers
Package Contents
PIQS TT Projector
Virtual Touch Remote Controller
Power Adapter
HDMI Cable
USB Charging Cable for Remote
Quick Start Guide
*For more detailed PIQS TT Specifications, click here.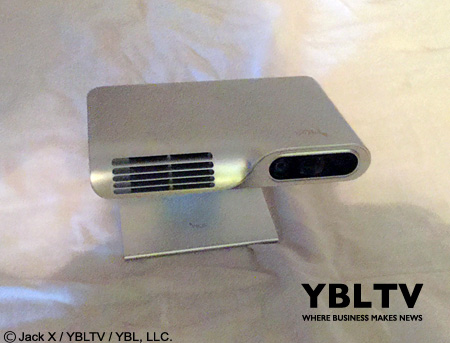 Pros
The biggest plus I found is the Autofocus feature built into the projector itself. When first booting up, the projector automatically focuses the projected image for the best clarity. I have seen this feature on a few other projectors. Click here to learn more about this technology.
Where PIQS Virtual Touch Projector also stands out is how the projector automatically resizes the projected image to match the surface being projected on. I have been using a wall in my house as a surface to project against - for as of now I do not have a screen.
These features were what I found to be the most positive aspects of the projector; now let's see what I found to be some of the areas open for improvement.
Cons
For those looking for viewing and/or gaming in 4K Hi-Def, you will need to look elsewhere. The projectors native resolution is at 720p HD. I myself did not find this to be an issue, but someone else looking to get a better resolution- this will be a problem.
Another issue I found is that the projector does not always want to recognize an incoming HDMI signal. So, improving the way the projector recognizes HDMI signal would help. The included HDMI cable is quite short as well. Luckily with me being such a tech geek, I was able to find one of my longer HDMI cable's.
Also, it would have been nice for PIQS to include the info that the projector automatically recognizes HDMI inputs within the Quick Start Guide. When I first booted up the projector, I searched the operation settings trying to figure out where the HDMI input settings were. Not until I viewed the full guide loaded into the projectors operating system did I receive the answer that I needed. Having the info on the HDMI input in the Quick Start Guide as well would have helped save not only time but a lot of head scratching.
Final Thoughts
With all the amazing features in the PIQS Virtual Touch Projector Projector by Butterfly Technology, these are just small improvements that could be made to improve what I believe to be an outstanding product.
I would love to upgrade my own viewing experience by using the PIQS Virtual Touch Projector in place of my own TV.
About Butterfly Technology
PIQS Virtual Touch Projector comes to you courtesy Butterfly Technology (Shenzhen) Limited, a respected world leader in innovative technology. Butterfly is one of the earliest companies in the world to develop micro optical engine, and has been a technology leader in projection display industry since its inception.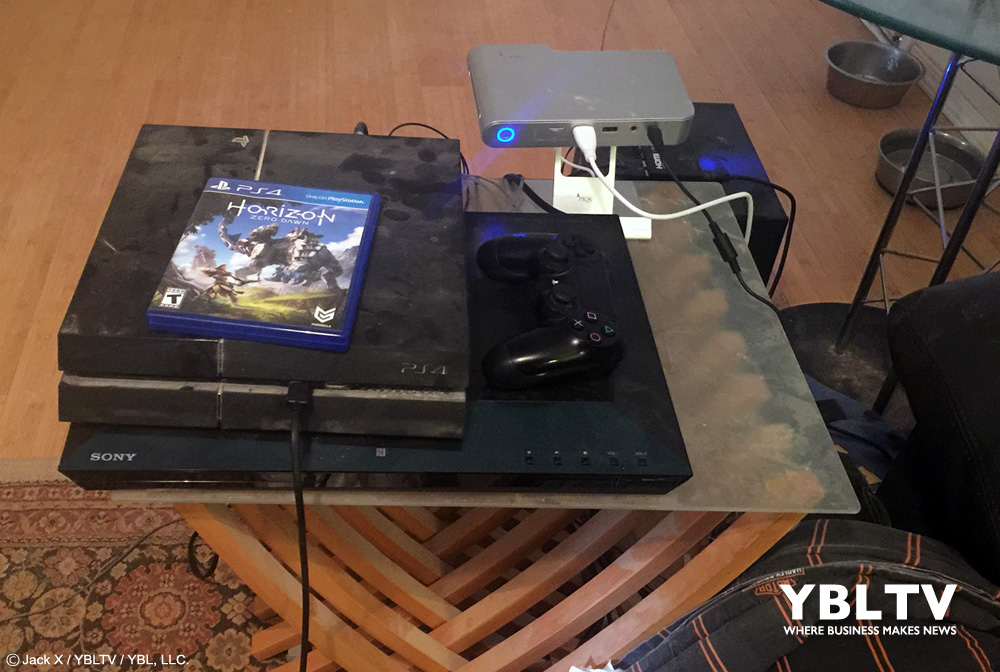 ###
Disclosure of Material Connection: YBLTV Writer / Reviewer, Jack X was provided on loan the PIQS Virtual Touch Projector from Butterfly Technology (Shenzhen) Limited in consideration for a Product Review.