VXi BlueParrott® Reveal™ Pro Product Review
At CTIA's Super Mobility 2016, VXi Corporation provided me a pair of BlueParrott® Reveal™ Pro headsets to review. Here's what to expect in the box when you get a VXi BlueParrott® Reveal™ Pro:
BlueParrott® Reveal Pro™ Headset
Carrying Case
Choice of Ear Buds (multiple sizes)
USB Charging Cable
Choice of Ear Hooks (multiple sizes)
Auto Adapter
Quick-Start Guide
Warranty and Compliance Insert
First thing I did after I completely charged the bluetooth headset via Micro-USB was call my mom. I asked her if she could hear me any better to which she replied, "Yes. I think it's probably the best reception we've ever had on a phone call! I can hear you perfectly."
My mobile carrier is T-Mobile. I live in the Southwest surrounded by a lot of mountains, and sadly, my reception is at many times very poor.  When my conversations are too often garbled, I'm thinking it's because of my carrier's limited coverage area and not due to my phone's internal microphone or headset audio quality. I have yet to experience these same audio problems while using my new BlueParrott® Reveal Pro. I really can't tell you how many times I've asked my mom and others the ever-so-annoying question: "CAN YOU HEAR ME, NOW?" 
Now, getting back to the The BlueParrott® Reveal™ Pro and its audio quality… Conversations are easier to hear and understand with HD Voice. Its extendable mic boom blocks over 90% of background noise - great for when I am trying to hold a conversation on loud, busy show floors at the Las Vegas Convention Center. If I'm at home, I can be away from my phone up to 300 feet and keep on talking.  The Reveal Pro's extended range (Class 1) Bluetooth allows me to do so.
The Reveal™ Pro provides over 7 hours of talk time and 5 days of standby time per battery charge. NFC pairing with my Samsung Galaxy S6 smartphone was a snap!
The headset has a Multifunction Button or "MFB". I click it once and through voice activation say, "Call Mom" and voila — my phone dials my mom and I talk hands-free. I end the conversation by simply clicking the MFB once again.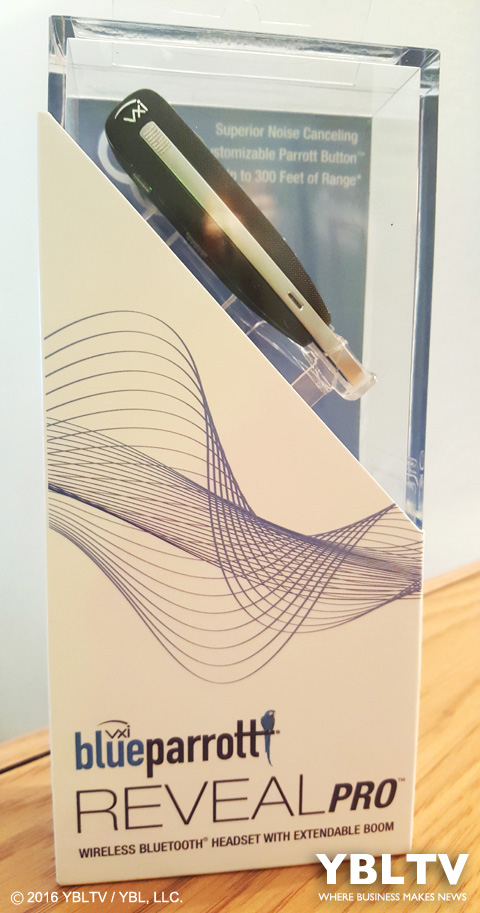 Besides liking the BlueParrott® Reveal™ Pro device itself and its terrific audio quality - I really like its Carrying Case. Small and compact, it nicely protects the headset. I've had other headsets in the past that have easily broken all because there was no carrying case to protect it when not in use!
As noted, you get multiple choices of Ear Buds with the Reveal™ Pro. Since I've unfortunately got a little arthritis in both of my hands, it was a tad tough for me to swap out each ear bud to determine which one fitted my ear the best. But once I found the right size and fit, I was satisfied. In fact, wearing the Reveal Pro doesn't even feel like it is 'there' - which is just fine with me… The fact that any device can feel transparent makes me happy… and yes, even makes my life simpler.  The Reveal™ Pro is extremely lightweight, weighing a mere 0.58 oz. Its on-the-ear wearing style doesn't get in the way like other headsets do if worn around the neck. I recommend wearing it with an Ear Hook (minus the loop), otherwise I'd be afraid of it falling off my ear!
Another huge plus I like is the Reveal™ Pro's Auto Adapter which is a life saver when you need to charge on the go. Again, my other headsets in the past did not include an auto adapter, so I was at a loss in my car if they lost their charge.
VXi BlueParrott® Push-To-Talk App
What I find to be the most beneficial about the BlueParrott® Reveal™ Pro is its programmable Parrott Button™ which provides an easy way to mute the headset, speed dial and more. You simply download and install the BlueParrott app. Developed in partnership with Dial2Do, the BlueParrott® app utilizes the MySay network for its push-to-talk/walkie-talkie feature. Since the Reveal Pro is an A2DP-capable headset, with just a click of a button - my texts can be read to me through my Reveal Pro. This is a dynamite feature anytime of the day - especially for safe driving!
###
Be sure to visit the VXi YouTube channel for video tutorials on the company's products. Contact their customer care at 800-742-8588 or [email protected] with any questions. Also, check out the company's online user guide for the BlueParrott® Reveal Pro™.
###
Disclaimer: Company provided YBLTV complimentary product for review.