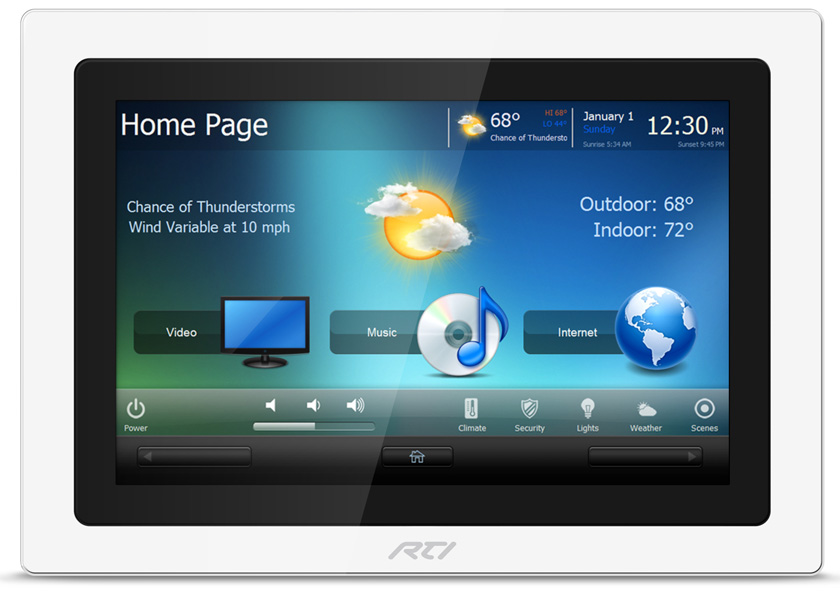 MINNEAPOLIS — Oct. 14, 2015 — Remote Technologies Incorporated (RTI), a leading control and automation manufacturer for residential and light commercial settings, today announced that the company will be demonstrating new features and functionality at CEDIA EXPO 2015 that further enhance its complete line of control and automation solutions. Visitors to booth 5742 will have an opportunity to test-drive RTI's new intercom functionality, see the all-new Z-Wave® lighting control solutions, experience the power of the new Integration Designer® APEX programming software, as well as get hands-on with the company's latest wired and wireless interfaces.
Now available, RTI's new intercom capability enables audio communication between RTI user interfaces and third-party devices via the standard SIP protocol. Perfect for front doors, gates, delivery docks, and intra-office settings, the intercom function adds convenience and security to any commercial or residential automation system, allowing users to check entrance points without opening the door. Features include auto answer, device-to-device calling and "push-to-talk" mode. A future update will enable video calling.
With RTI's all-new Z-Wave lighting control solutions, users can easily manage lighting elements both locally and from the convenience of an RTI user interface. The devices utilize Z-Wave RF technology, creating a wireless network that seamlessly integrates with RTI's home and commercial automation systems via the ZW-9 Z-Wave interface module. Perfect for new construction and retrofit installations, the product line consists of light switches, dimmers, a lamp module and receptacles, without requiring any new or specialized wiring. For instance, the innovative battery-operated "Anyplace" switch requires no wiring of any kind, offering incredibly flexible installation possibilities. With a classic, elegant design, the devices blend into any décor and easily scale to installations of nearly any size — providing control for up to 200 devices.
At CEDIA EXPO, RTI will display interfaces that support the new intercom functionality, including the KX3 and KX10 in-wall touchpanels, and RTI's recently released flagship remote control: the sleek and elegant T3x. The new intercom capability is available now as a free firmware update. Additional wired interfaces on display will include the WK2 water-resistant in-wall keypad for environments such as bathrooms, kitchens, and outdoor areas, and the KX1 in-wall audio distribution keypad featuring a 1.2-inch color OLED display with support for two-way control.
The backbone of RTI's control and automation solutions is the company's award-winning Integration Designer platform. At CEDIA EXPO 2015, RTI will be demonstrating how the new Integration Designer APEX software dramatically speeds up the installation process while maintaining the ease of customization that RTI is known for. APEX features a number of enhanced capabilities to make system design more efficient than ever, including auto generation of the graphical user interface and programming, a new IR library, support for multi-room programming, the ability to resize bitmap graphics, and more.
"At CEDIA RTI will be showcasing new features and functionality to benefit dealers and end-users alike," said Brett Stokke, director of communications at RTI. "On display will be our new intercom capability, Z-Wave lighting controls, and the revamped Integration Designer APEX software — features that are designed to enhance the control experience while offering our dealers greater installation efficiency. Add in our latest interfaces and three training sessions, and it's shaping up to be an exciting show."
RTI will be exhibiting in booth 5742 at CEDIA EXPO 2015 from Oct. 15-17. More information is available at www.rticorp.com.ons in connection therewith.