New Two-Way Driver Delivers Intuitive Control of IrrigationCaddy Devices Directly From RTI User Interfaces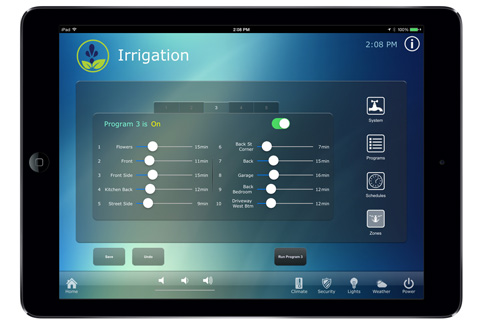 SHAKOPEE, Minn. — Dec. 3, 2014 — Remote Technologies Incorporated (RTI) today announced the availability of a new two-way driver for use with the IrrigationCaddy HA line of Wi-Fi®-enabled, Web-based irrigation control systems. The driver enables control and scheduling of IrrigationCaddy, allowing users to conveniently manage their irrigation system with the same RTI user interfaces controlling the rest of their homes' electronic systems, including HVAC, security, and A/V.
Developed by RTI, the new IrrigationCaddy two-way driver allows users to monitor the status of their irrigation system, showing which zone is currently running, its duration, and the time remaining. The user even has the ability to edit their watering schedule on the fly and manually control irrigation in up to 43 zones — all from their RTI devices. To prevent waste and overwatering, the IrrigationCaddy system automatically stops scheduled programs when triggered by either a rain sensor or RTI's weather driver if rain is in the forecast.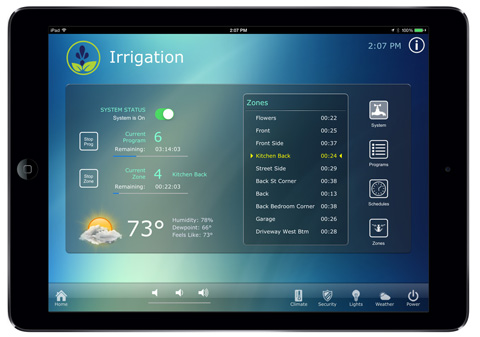 The IrrigationCaddy communicates via Wi-Fi to the local Ethernet network and utilizes a browser-based interface for initial configuration of zone names and scheduling. Speeding up the installation process, the RTI driver also includes a separate timesaving Windows®-based app that extracts the programming from the IrrigationCaddy device, eliminating the need for integrators to enter this information manually into the RTI programming file.
"In addition to convenience, automated irrigation systems such as IrrigationCaddy save end users money and promote environmentally responsible water conservation," said Scott Kelley, vice president of sales and marketing for RTI. "By integrating the IrrigationCaddy system into the RTI control platform, it's simple for integrators to provide their clients with convenient up-to-the-minute status and easy editing of scheduled watering cycles."
"We let quality, innovation, and a positive user experience guide our business, and RTI shares those values, so it's especially gratifying to have the IrrigationCaddy HA selected for the development of a new driver," said Kristi Tenrreiro, vice president of marketing and sales, IrrigationCaddy. "The IrrigationCaddy driver will be a great addition to RTI's offering, and customers will find it to be the perfect irrigation solution with their control system."
The two-way driver for IrrigationCaddy is available free of charge on RTI's website at www.rticorp.com in the Driver Store.
###
About Remote Technologies Incorporated (RTI)
Remote Technologies Incorporated (RTI) is a leading control systems manufacturer offering innovative, sophisticated, and user-friendly devices for professionally installed electronic systems. The company's wide array of award-winning handheld and in-wall universal controllers, central processors, audio distribution systems, and accessories are marketed exclusively through a worldwide network of professional integrators. For complete control and monitoring over electronic systems from virtually anywhere in the world, the power of RTI is available on iPhone®, iPod touch®, iPad®, and Android™ devices through the company's RTiPanel application, just as the award-winning RTI Virtual Panel program offers access and control via any PC running Microsoft® Windows®. All RTI solutions are programmed through the company's world-renowned Integration Designer®software, easily allowing dealers to provide a completely customizable user interface for intuitive command over the entire electronics system.
Founded in 1992 with a committed focus on the custom installation market, RTI offers a number of award-winning support and incentive programs to its dealers, including educational opportunities through the Advanced Control University (ACU), and the popular Control Bucks and Dealer Accommodation programs. In addition, through RTI's Integration Partner Program, the company has reached out to manufacturers across the industry to ensure that RTI products integrate seamlessly with a wide variety of components and systems.
Additional information on RTI and its innovative control solutions is available at www.rticorp.com.
https://twitter.com/RTICorp
http://www.facebook.com/rticorp
https://www.linkedin.com/company/rti-corp
All trademarks and registered trademarks mentioned herein are the property of their respective owners.
###
Information contained on this page is provided by companies via press releases. YBLTV makes no warranties or representations in connection therewith.