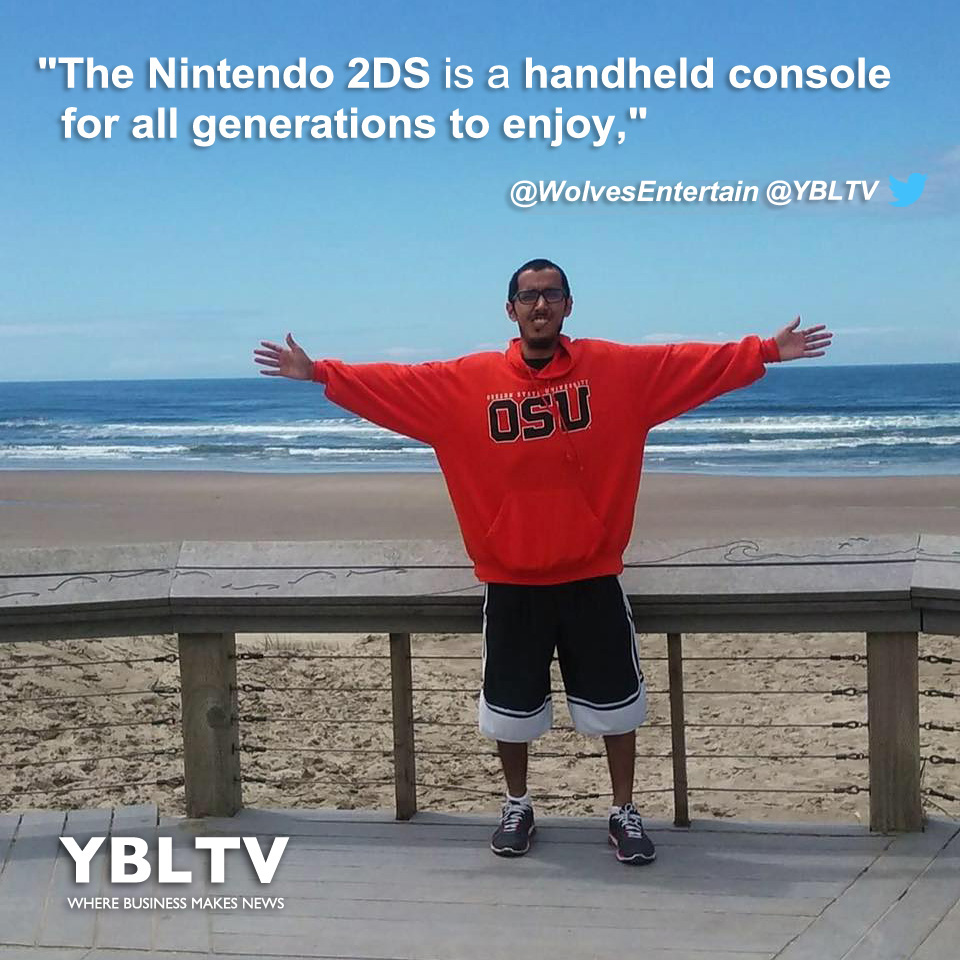 YBLTV Review: Nintendo 2DS
Background of Nintendo 2DS
Since I love gaming so much, I am very excited to do a review of the Nintendo 2DS. In October of 2013 Nintendo produced the Nintendo 2DS, a system that allows you to play 3DS game and DS game all in one console.
Product Features
2D gaming
XL screen (Nintendo 2DS XL screen is bigger than the regular edition)
Ergonomic folding design ( 2DS XL)
Headphone jack
Wireless connectivity
Unique design
Specifications
Camera
Cartridges and downloadable content
D-Pad controls
3.5 mm audio jack
Memory card support
Backward compatibility
2nd display screen
"The Nintendo 2DS is a handheld console for all generations to enjoy," - Wolfgang Nava, YBLTV Writer / Reviewer @wolvesentertain
Pricing
The first thing I like about Nintendo 2DS is its pricing. The ones with the console only are just under $80. However, I recommend buying a 2DS that has a game included - I received the Mario Karts 7 2DS bundle. Those who want an XL version will pay $139.99.
Gaming Platforms
The 2DS can play a wide variety of games from the 3DS to the original DS. It is exciting that the old games you may not play as much can now be played on a newer console.
Speakers
The Nintendo 2DS has only one speaker. If you are not wearing headphones, it may not be as great of an experience. So, I recommend to wear headphones when playing this system.
Design
The original DS had a foldable design which enabled it to be taken anywhere, easily fitting in your back pocket. However, the Nintendo 2DS does not have this function which does not make it as portable. The design of the 2DS XL has remedied this issue.
Battery Life
The biggest issue that this system has is its battery life. When I play a game, very often I play for a long time and it is a big disappointment when the battery dies out very quickly. Usually, I have to play the system with its charger. I do this because I do not want to lose track of time when I play - so I do not have to find the charger and just charge it!
Pros
Very cost-effective
Inexpensive at $139 for XL a unit ($79.99 for regular edition)
Wide variety of games
Cons
Battery life
Design
Sound (need headphones for decent sound)
Final Thoughts
Overall, the Nintendo 2DS is a good buy - especially for those who do not want to spend a lot of money on a 3DS.  I recommend buying this system for children and those who like to play not only old games but new ones too!