YBLTV: What does your company do?
24i: 24i creates, designs, develops, deploys and maintains high value apps for internet-connected tv apps and companion devices. Founded in 2009, the company´s headquarters is located in Amsterdam, with development and sales offices in Madrid, Brno, Buenos Aires, Copenhagen and Los Angeles.
In collaboration with content owners, distributors and technology partners, we engineer cutting-edge solutions that allow consumers to access content wherever, whenever, and however they want it – resulting in increased viewer satisfaction and higher revenue. We make app development simpler, deployment faster, and updates easier.
All 24i apps are developed using our AppCore, our proprietary, state-of-the-art development and production framework. Because the AppCore contains all the knowledge of the different platforms and technologies the company works with (including the BBC's leading TAL JavaScript library that 24i actively contributes to), 24i is able to develop and maintain an application once and seamlessly deploy it to all requested platforms. This way, 24i streamlines development, distribution and maintenance of TV apps while clients experience a high-quality presence on all leading TV platforms — quickly and cost-efficiently.
YBLTV: How long has the company been in business?
24i: 24i has been in business since 2009
YBLTV: What product(s) do you currently sell?
24i: 24i offers broadcasters, operators, content owners and media companies a wide choice of Internet TV application products and related services, from white-label to fully tailored solutions. Our products includes the following:
SmartAPP
Our Smart Apps is fully tailor made apps for all devices created, designed and deployed by our world-class engineers. Internet TV applications fully customized to your needs and demands. Our SmartApps will always support each client's specific TV and OTT strategy, requirements, brand and technology integrations. Our in-depth knowledge and expertise with streaming video and interactive TV enables us to develop for you and with you tailor-made solutions with cutting edge functionalities, realizing truly competitive advantages and strategic value for your company. 24i at its best, TV apps beyond imagination. That's a promise.
Key Features
Live TV
TVOD/AVOD/SVOD
Non-Video Content Distribution
Ad Insertion ⁄ Payment Systems
Catch-Up TV ⁄ Binge Viewing
Watch History ⁄ Seamless Switching Between Devices
Content Enrichment/Interactive Features
Social Media Integration
Recommendations
Program Guide ⁄ My Account / Settings ⁄ Favorites ⁄ Search
SmartOperator
24i's SmartOperator TV app, is a sophisticated yet simple, TV Anywhere front-end solution for TV operators. This off-the-shelf , template product offers an innovative and uniform user experience across varying devices. This unique multi-screen TV app provides all the standard functionalities of a traditional set-top box, while adding innovative functions to that - but without the need of a set-top box. With the SmartOperator you can quickly step into the future of TV distribution on all connected-TV platforms - Smart TV, gaming consoles, media devices, tablets and mobiles. And yes, the SmartOperator also runs on RDK set-top boxes. Hassle-free and with minimal investment, thanks to the user license fee model
Key features
Dashboard Navigation
Pause & Restart Live TV, up to 4K
On-screen EPG
EPG Reminders & Catch-up
Network PVR
Aggregated Search
Personalized User Profiles
Recommendations
Social Media
AppStore and 3rd party App integrations
SmartOTT
24i's front-end solution for Over-The-Top TV distributors is an off-the-shelf customizable template product that will help you remove complexity from your IPTV and OTT strategy. It's a cohesive suite that enables you to simplify syndication and deliver your live and on-demand TV and video content, from one to hundreds of TV channels, to any screen. With this cost-efficient, turn-key solution you can quickly expand your reach among the next generation of TV viewers, worldwide. Hassle-free and with minimal investment, due to a license fee model based on active users. SmartOTT offers world-class TV apps that get your content to any TV screen, powered by any source: SmartTV, iOS, Android, Roku, Chromecast or Apple TV. SmartOTT.
Key Features
Dashboard Navigation
Pause & Restart Live TV, up to 4K
On-screen EPG ⁄ EPG Reminders & Catch-up
Aggregated Search
Personalized User Profiles & MVP Authentication
Discovery & Engagement Tools
TVOD/SVOD/AVOD revenue models
Device & back-end agnostic
Smart Template
Are you a service or platform provider in the OTT value chain? Do you want to deploy TV apps for your clients? In our 24i SHOP we present to you our SmartTemplate TV app front-end solution: our offer to our partners in the chain, that need a standardized front-end solution at lowest costs, but with maximum quality, stability and innovation. SmartTemplate is our answer to the exploding demand amongst broadcasters and brands to have an OTT distribution model in place. This build-once, deploy-everywhere TV app template offers your clients easy access to the OTT market space. The SmartTemplate apps are constructed based on optimized designs, allowing users to share content on all relevant TV platforms with the shortest time to market and at ultra competitive costs. Plug our SmartTemplate into your OVP back-end, and play. No investment, no hassle.
Key Features
Content optimized design templates
Catering to different types of content
Brand customizable ⁄ Change app's color scheme or logo ⁄ No programming skills required
Modular extension with payments, advertising, analytics, social media, user profiles and more
All relevant TV platforms: Smart TVs, game consoles, media players (like Amazon Fire TV and Roku), mobiles and tablets.
SmartOTT Backstage
SmartOTT Backstage is a powerful Content Management System (CMS) designed to empower content owners, broadcasters and operators to unlock the potential of premium video with a service that allows them to enrich and organize their content metadata, offers social interaction, smarter personalized recommendations, continued viewing and superb curated content collections- instantly responsive across devices and regions.
SmartOTT Backstage is a cloud-based and modular system that sits between the clients' video backend system and their front- end applications, a robust and flexible solution comprised of three core functionalities, an intuitive CMS, a metadata & data-source component and a robust API which enrich and organizes content.
Key Features include:
Seamless integrations; The solution further offers a comprehensive suite of connectors that integrate seamlessly with existing systems and partners, allowing customers to enable/disable a range of integrations. For example analytics (Adobe Analytics, Google Analytics) or advertisement (FreeWheel, Google DFP), recommendation, etc.
Powerful and robust API: The flexible API is designed as an independent component, which is integrated with the SmartOTT Backstage Metadata/Data-source component. It can also connect to any source containing metadata, app configurations, etc.
An optimized unified point of access for all applications to retrieve app configurations, metadata and additional services not provided by the OVP, such as recommendations powered by Microsoft Azure.
Metadata enrichment system; a tool to import the metadata from the OVP into the system allowing clients to improve and differentiate their content data
Data-source and import/export tool for all application related configurations, including but not limited to; Template, Menu, Pages, Sections, Playlists, third party integration configurations
Personalization – combining user preferences and rich metadata for customized content recommendations.
Content and metadata orchestration; a query builder & collection editor allowing customers to create curated playlists, meaningful content collections and schedule publishing- for smarter planning and scheduling of content workflows.
App configuration tool; allowing clients to select the modules & content they want to show on each page of their front-end apps, on any device.
Intuitive branding tool; enabling customers to incorporate their brand & look across all their apps, on any device, from uploading their logo to posting a promotional message.
Advanced user & role management; offering possibilities to customize the roles within an application with granular permissions.
Easily create application pages through a defined set of page blueprints (browse, search, settings), gives customers the freedom to arrange, schedule, order and publish their content as they wish.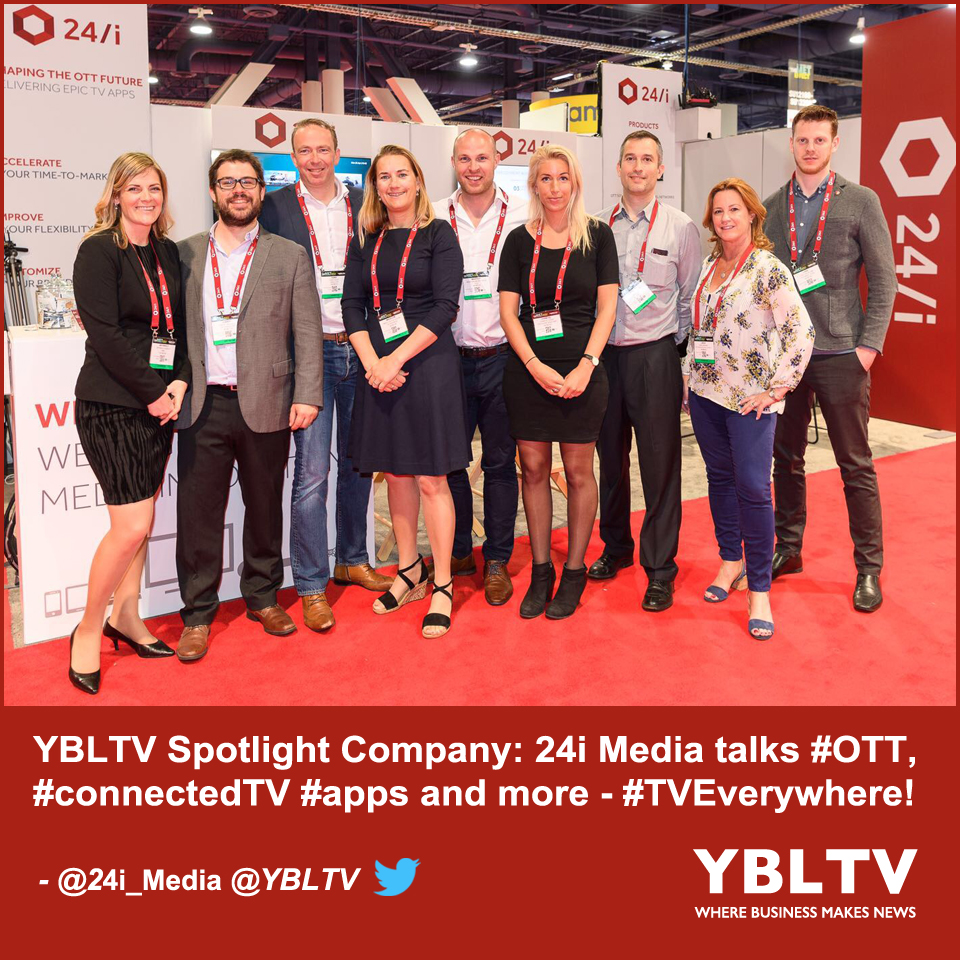 YBLTV: What do your products offer that competitors' products do not?
24i: What really differentiate us from our competitors is that we decided that we do not want to be in the chain our self, but outside of the chain. So we're doing the interface and only the interface which means that we are agnostic to all the online video platforms we work with such as Comcast technology solutions, Vimond, Kaltura, Siemens, Verizon Digital Media Service, etc. We work with their systems but we're not replacing their system. We're building more like configuration files and the high availability and scalability is with the online video platform. So when the operator needs to scale a solution to meet higher usage or similar, they only need to scale one solution, the online video platform, and not two, which is the case for other TV application firms.
YBLTV: What are the key features that are unique to your company?
24i: At 24i we help our customers deliver compelling content to their consumers across all devices. 24i's white-label products and customized solutions empower our global customers to deliver engaging and personalized media to their millions of consumers worldwide. With almost a decade of experience working with broadcasters, content owners and operators, we've built our products and services with the needs of their business and customers in mind.
Designed to help content owners, broadcasters and operators deliver next generation Internet TV experiences and services, 24i Media offers a cost-efficient, turn-key solution allowing customers to quickly expand their reach on multiple devices among the next generation of TV viewers, worldwide.
Key features include:
Develop once, deploy everywhere: powered by 24i's modular AppCore framework
Continuous, functional and cross-device evolution roadmap
Integrated test cycles & proactive maintenance for optimal efficiency and quality
Template-based applications to ensure fast time-to-market and proven UI & UX
Integrated with the best technology and functionality partners across the value chain: OVP / Analytics / Payment / Advertising / DRM / CDN
License-based business model, ensuring optimal ROI
Associated costs based on Client's value model
Access to product evolution upgrades & best in class support service
24i makes use of its proprietary production framework AppCore. All technical engineering and knowledge over the last 7 years is incorporated within this tool that enables us to develop and maintain platform agnostic TV apps, in the most effective and efficient way. 24i is the smarter, simpler TV app solution for broadcasters, cable networks, and program distributors who want to deploy their content better, faster, and more reliably with cost-efficient and scalable custom and template-based solutions.
Our clients wants to have personalized and seamless experience across all devices. Time to market is also essential to their success as is cost and quality. Therefore we build a tool that allows our clients to "build once- deploy everywhere", even if it is a customized app or a white-label app. This allows us to build custom application in a modular way, just like building with Lego. We have all kinds of modules, one for measurements, for QoE, for integrated payments methods, video on demand platforms etc etc. All modules are separate, allowing our customers to easily add, replace and integrate other modules.
YBLTV: What are your biggest differentiators in terms of value to a partner?
24i: Our biggest differentiator in terms of value to our customers are our production framework, AppCore. All technical engineering and knowledge over the last 7 years is incorporated within this tool that enables us to develop and maintain platform agnostic TV apps, in the most effective and efficient way. 24i is the smarter, simpler TV app solution for broadcasters, cable networks, and program distributors who want to deploy their content better, faster, and more reliably with cost-efficient and scalable custom and template-based solutions.
Moreover, we offer a proven QA process, allowing us to release new apps and app upgrades to all platforms swiftly, without hassle. Our test lab is well-equipped and we have excellent working relationships with all mainstream vendors of TVs, STBs, gaming consoles and OTT platforms, as well as Online Video Providers (OVPs), DRM providers and other suppliers in the OTT delivery chain.
YBLTV: What do your top partners look like and how do you engage with them?
24i: Our top customers include RTE, Viacom International Media, Fox Sports, RTL, NPO, Fuse Media, EdgeTV, Sinclair Broadcasting Group, Globo, Bliim and many more. For more details on what we do for our customers, please visit 24i.
YBLTV: How do you see your industry landscape evolving in 2017 and beyond?
24i: The need for being available on the device the consumers prefer, with a personalized service customized to the needs and desires of the end-user, is becoming increasingly important. Operators have to turn viewers into fans to win their heart, loyalty and money. We see a big swift from offering a personalized VOD service, to the need of offering a hyper-personalized service where consumers expect the operators to use the data they have on them to customize offerings, to increase the contextual and personal relevance of all content, including ads, to make every viewing experience engaging and meaningful. The consumers expect that the humongous bits of data which operators are collecting should be wisely used to hyper-personalize the consumer's experience.
In the consumer centralized century, addressing audiences as particular individuals is no longer a "I will have to" but a must.
We also see a strong trend where data is not only used to personalize an experience for a consumer, but is increasingly being used to predict future use patterns and predict accordingly. Machine learning, a type of artificial intelligence, the ability to program machines to learn from new data — to improve targeting and reach of advertising, are becoming increasingly used by operators in the race to win the consumers heart.
Importantly- machine learning enables advertisers to more accurately predict customers advertising preferences and serve them targeted ads more effectively. Processing large amounts of historical user data, the technology can predict users' interests, behaviors, and purchasing actions with more precision. This is very hot for the advertising industry but also for AVOD solutions as it opens up for a new revenue stream from advertisers.
Like the previous years, 2017 also sees a lot of consolidations, of companies, technologies, platforms, etc. This will most probably continue a few more years.
YBLTV: How is your company supporting its partners as they adapt to these changes?
24i: At 24i, innovation and research is part of our DNA and we're very dedicated to always strive to keep one step ahead and always be up to date with new technology, new devices, vendors in the ecosystem etc. so we can always support our customers to new technology, new trends, new opportunities as they come.
The AppCore, the core of 24i's proprietary framework, serves as a state-of-the-art technology and production hub that enables simpler and faster development and distribution of TV apps. This integrated system allows us to develop an app once and then deploy it instantly across all requested platforms. As a result, our clients are able to experience a high-quality, hassle-free presence on a multitude of leading TV platforms simultaneously at a reasonable cost.
Furthermore, the AppCore is a modular and highly flexible framework, allowing customers to add or remove elements to their service as they go and grow. Like building with Lego building blocks, adding new features as the consumer request it, integrating new technology etc. All our apps are built on the AppCore, enabling all clients to stay on the latest framework for the best and most optimized technology and platform updates.
YBLTV: Where next? What markets are you looking into and where do you see the company in 5 years time?
24i: We have a solid footprint in Europe and we'll continue to strengthen our footprint in this region together with our customers here. We also have a strong footprint in LATAM and North America, regions where we'll invest more to keep up with markets demands for our services.
With the strong footprints we have in Europe, LATAM and North America, we're also looking at the Asia Pacific region, an extremely fast growing region with lots or opportunities.
Within the next 5 years, we have a solid and strong global footprint, we're recognized as one of the top 5 vendors for quality and innovative front-end TV applications for all devices by the industry. We work with a wide range of customers in the media industry, from smaller skinny bundles to some of the largest media and entertainment companies in the world and we enable our customers to plug into our growing global partner network.
###
Connect with 24i Media
Company: 24i Media
Owner Name: Martijn van Horssen
Website: http://www.24i.com/
Twitter: https://twitter.com/24i_Media
Facebook: https://www.facebook.com/twentyfouri/
LinkedIn: https://www.linkedin.com/company-beta/1186624/