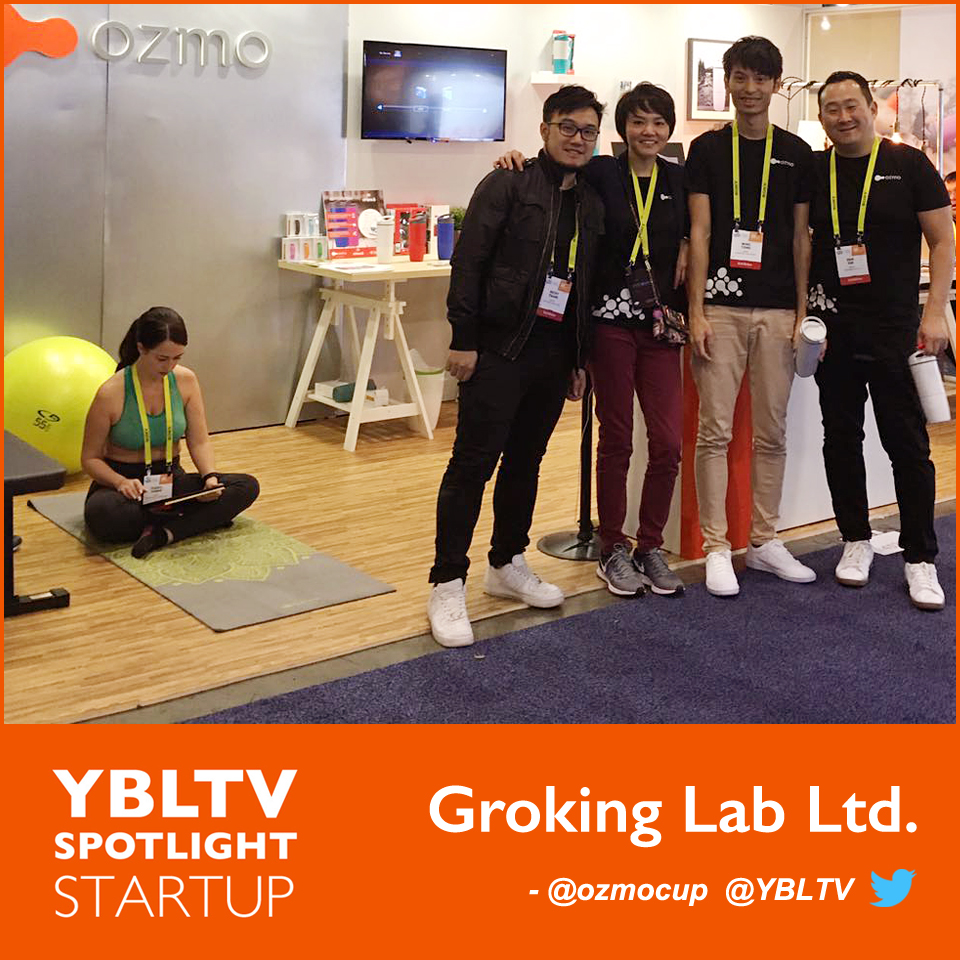 YBLTV: What is it the company does?
Groking Lab: Groking Lab is a tech & design startup that focuses on providing people with fun, easy-to-use interactive tools and apps for better living. Our first product is the Ozmo Smart Cup and application that synchronizes or works independently to empower people to make better hydration choices. The cup utilizes photo-sensing technology to track your water and coffee consumption and gives you indication of how much more you should drink, while the application gives you a dynamic hydration analysis based on your activity levels.
YBLTV: What inspired the company to start-up?
Groking Lab: This is a very personal story. I once had a loving brother who passed away while I was still a teenager. Our bodies are made of 70% water, yet, 75% of Americans don't manage to get their proper hydration each day. Over time, failure to drink enough water compounds health complications such as fatigue, joint pain, weight gain, and headaches. Kidney stone developments have been traced to lack of hydration. Dehydration has an increased health risk to aging adults, those battling illness and individuals who have nutrition challenges.
No matter what line of profession you are in, water is something that we need in order to perform at our best.
Of course you also need to have a co-founder who is a cross country trainer who would pass out if he didn't stay hydrated during his race. It so happens, he is a designer that dreams big and that is how we started to come up with this idea two years ago.
YBLTV: How did you go about starting up, did you apply for funding or did you self-fund the project? If so, where did you secure funding from?
Groking Lab: I started the company with 2 other co-founders and all of us came from product related backgrounds. Our first idea was to start a crowdfunding campaign on Kickstarter.
Going through crowdfunding was a great start but we also needed additional support from the government as well as angel investor locally.
YBLTV: Where do you get advice, support and/or help?
Groking Lab: Our support came from the communities around us. We've attended various networking events and joined different startup communities where industry leaders would get together to share ideas and give advice to one another. Even though there is always a chance that different companies could be potential competitors in the future, everyone remains supportive of each other. This is the beauty of the startup scene in Hong Kong.
YBLTV: What has been your biggest challenge so far?
Groking Lab: We had many challenges along the way, where each challenge was just as significant as the other. For instance, mass production has always been tricky as we have to take into account the possibility that we might have more pledges than expected or we may have one colour which turns out extremely popular compared to the rest.
Timing is difficult at times too. We have to always ensure that product development is completed on schedule. This keeps us on our toes as a delay in delivery could mean a loss of trust with the consumers.
Apart from product management, once you have passed launched phase, you get asked by every stakeholder on your sales figures and it has become the number one goal of the company now, which is to make the product retail ready and user-friendly so that we can generate substantial revenue.
YBLTV: What is your next big target?
Groking Lab: Our next big target is to come out with a new product line which does not limit hydration tracking to a bottle. Hypothetically speaking, a product's lifespan from the IoT industry will last only 7 years so we must raise the bar in terms of quality and innovation.
YBLTV: What is the best and worst thing about being a start-up?
Groking Lab: Let's start with the worst thing. Getting the preliminary stages done was the toughest as we wanted to create a product that looks good as well as being able to work well. We had troubles with creating the first prototype when we were handling the Tooling of the product as well as the UX design for the app as we had no prior experience. Everything was new and unfamiliar to all of us.
The good thing about being a start-up is that you can experience different sensations; it's extremely thrilling and rewarding when you have reached certain milestones or accomplishments. For instance, the moment our Smart Cup started to synchronize with our mobile app seamlessly, we knew that was our silver lining.
YBLTV: What makes this idea different?
Groking Lab: There are millions of new ideas being thought of everyday but what constitutes a good idea really?
I believe being the first in the industry might have made us stand out but what really caught the attention of our buyers was that the Ozmo Smart Cup delivered 'value'. It was not simply faster, better, more powerful or more effective but it offered a solution to improve people's health without disturbing their daily routines.
People fear change and this is what we wanted to avoid. We didn't want to change their lives, we wanted to improve it.
Our idea is for everyone to use the app to customize their hydration goals and improve their health routines. It is important to provide a unique experience to our user to make sure that their stickiness to the Ozmo brand increases.
YBLTV: Who would be your dream customer?
Groking Lab: Our dream customer would be none other than Dwayne Johnson - aka The Rock. His character imbues all the positive traits and values that we share at Ozmo; to motivate people to push on in life whether or not they have hit rock bottom (pun intended). He's trained hard as a bodybuilder which is an indication that he knows exactly how to maintain his body in excellent form. Did you know that he drinks 2 - 3 Gallons of water a day? "It's a lot… I'm always as they say, yes, always peeing," - Dwayne 'The Rock' Johnson.
For the record… If Dwayne Johnson ever reads this, we will make a bigger cup for him, gladly!
YBLTV: What are some of the trends you are most excited about in 2017?
Groking Lab: After coming back from CES 2017, it is evident that the Fitness Technology industry is at its peak. The industry is no longer focusing on making single product but integrating with each other like the Ozmo brand does with Fitbit, Garmin, Apple Health and Misfit.
Personally, I have taken a liking to drones turning into an entertainment tool and soon we can fly with the human carrying drone and don't need to get stuck in traffic on the ground!
###
Connect with Groking Lab Ltd.
Owner Name: Serena Pau
Website: http://www.ozmo.io
Twitter: http://www.twitter.com/ozmocup
Facebook: http://www.facebook.com/ozmocup
LinkedIn: https://www.linkedin.com/company/groking-lab