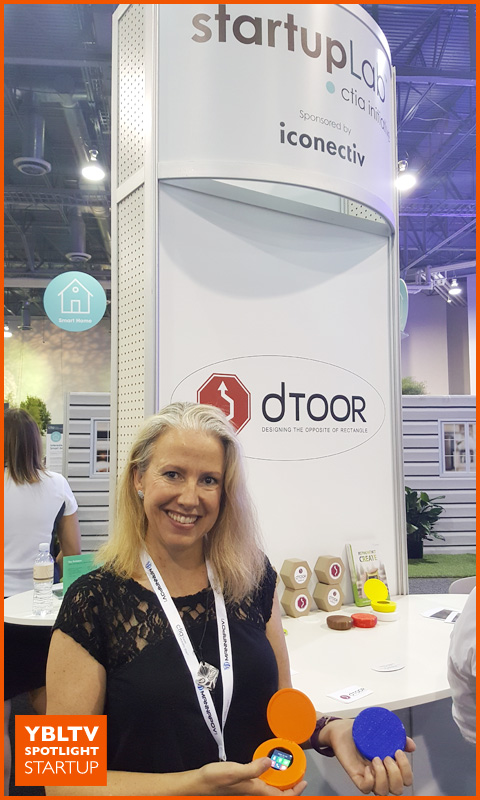 YBLTV: What is it the company does?
dTOOR Inc. SPC: We "design non-rectangular phones for non-rectangular people." Our first product is a phone in the shape of a circle, called The Cyrcle Phone. It is both a handset and a wearable. If you think about it, all phones on the market currently are in the shape of a rectangle…we want to disrupt the mobile industry!
YBLTV: What inspired the company to start-up?
dTOOR Inc. SPC: Initially, our design is from the perspective of women. Most rectangular phones don't fit into women's curved pockets, and women's fashion sometimes has no pockets at all. We crafted a working prototype (circular case printed using a 3-D Printer, the internal components from SEEED Studio with whom we've partnered), and flew to Barcelona at the Mobile World Congress (MWC2016) to show the mobile industry our idea. We were blessed with a positive reaction, and were immediately covered by CNET.com And what came as a bit of surprise was, many more men were interested in our design and idea. We were asked several times if we would sell our prototype, despite the fact that it is a very basic phone model. So, now, we are selling our prototype phone, with service, modifiable case files, case, charging cable via Kickstarter!
YBLTV: How did you go about starting up, did you apply for funding or did you self-fund the project?
If so, where did you secure funding from?
dTOOR Inc. SPC: At the moment, we are bootstrapping our startup for the first two years. We are preparing our pitches to investors as we will be working on our next version phone, the 4G LTE model.
YBLTV: Where do you get advice, support and/or help?
dTOOR Inc. SPC: Our families, close friends, and various local and national advisors in the mobile industry, startup world and investors.
YBLTV: What has been your biggest challenge so far?
dTOOR Inc. SPC: Time. Sacrifices. There are just two of us having to wear multiple hats attempting to do so much…
YBLTV: What is your next big step?
dTOOR Inc. SPC: Jumping into the work of the next big phase of our journey: in simple terms, building the motherboard of our next version phone, securing partnerships, pitching investors, making connections, working on operations, marketing, building our company…..many, many things!
YBLTV: What is the best and worst thing about being a start-up?
dTOOR Inc. SPC: Great joy in bringing a "cool" idea to fruition! The demands and time required (sometimes to the expense of our health) to make it a success!
YBLTV: What makes this idea different?
dTOOR Inc. SPC: There isn't anything like it on the market! And we have received such positive feedback and interest! We really mean it when we say, "non-rectangular phones for non-rectangular people." The Cyrcle Phone is our first product; just one design. We have more designs up our sleeves.
YBLTV: Who would be your dream customer?
dTOOR Inc. SPC: The mainstream mobile phone user, across all demographics.
YBLTV: How do you see the mobile landscape evolving from 2016 and beyond?
dTOOR Inc. SPC: With the development of 4.5G, 4.9G, 5.0G, IoT, etc. there will be a greater ability to customize needs and wants across so many devices….exciting times ahead!
###
Connect with dTOOR Inc. SPC:
Business Name: dTOOR Inc. SPC
Owner Name: Linda Inagawa
Website: http://www.dtoor.com/
Twitter: @dtoor_inc
Facebook: https://www.facebook.com/dtoor.inc/