YBLTV Review: Jackery 3350mAh Mini Portable Charger
When traveling or unexpectedly stranded without a power source, watching the battery on your device drain away can be like seeing your own life slowly sap away. Fortunately, for those of us tethered to our smartphones, emergency backup can provide peace of mind from the Jackery 3350mAh Mini Portable Charger.
"The Jackery Mini is reliable, efficient, and durable - best for road trips and mediaistas who are constantly on the go," - Mary Beth Ellis, YBLTV Writer / Reviewer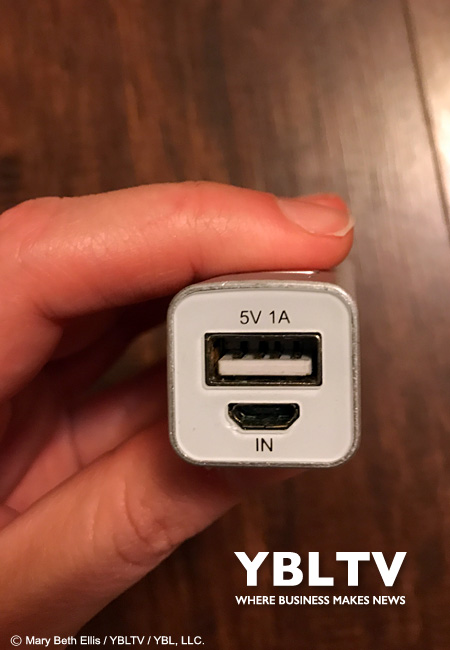 Usability
The Jackery Mini is an external power charger that requires about 90 minutes of plug-in time to reach capacity. It uses a micro USB charger to keep its own power supply (included). An iPhone-compatible lightning connecter is not included.
Four LED lights alert users to the amount of power still in the pack; it's an easy way to see how much it has left to give when it's time for it to resuscitate your device. For the simplicity of its single on-off button and lights, however, the Jackery Mini isn't all that intuitive when it comes to actual use. The design requires users to plug in the device first, then press and hold the power button to start the charging process. That isn't made clear, but once you know the secret, Jackery Mini will keep your device out of the red.
Given its small size, the Jackery Mini can be used in a pinch for tablets, but it's best paired with phones, mp3 players, and other smaller devices.
Performance
Initial charge can take a while, and the LED lights don't provide much information concerning how quickly the process is going. However, if you keep the Jackery Mini turned off when you don't need it, the charge can last for weeks. I once went a month without using mine to rescue my iPhone 7, and when I turned it on, the juice was still at 75%. To preserve power, it turns off automatically when not attached to device.
While the Jackery Mini has saved my digital bacon several times, it's come at a cost to my swagger: This little sucker is heavy. It's smooth and compact, but it makes my purse feel a tad heavy!
Specs
Dimensions: 0.9 x 0.4 x 0.9 in
Weight: 2.8 oz
Capacity: 3350mAh
Input: 5V/1.5A
Output: 5V/1A
Pros
Holds charge for weeks
Efficient
Small and sleek
Durable
Cons
Heavy
Long initial charging time
Initial use not intuitive
Final Thoughts
The Jackery Mini is reliable, efficient, and durable (it's been banging around cross-country with me for about two years and still going strong). It's best for road trips and mediaistas who are constantly on the go. Visit the Jackery Inc. website and be sure to check out their Jackery PowerBar on Indiegogo!