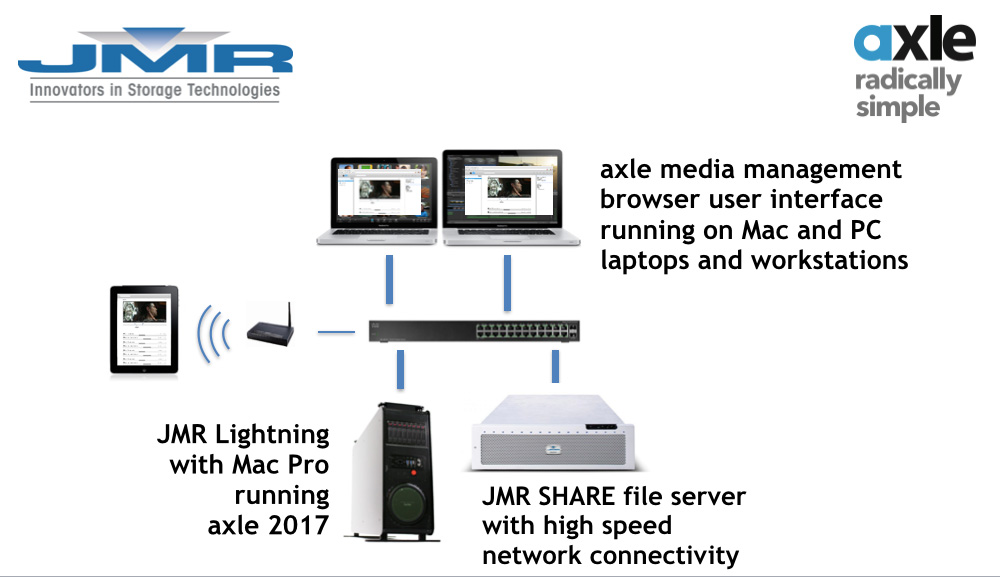 Chatsworth, CA, April 18, 2017 – JMR Electronics, Inc. a leading design center and manufacturer of scalable storage systems and axle Video, the leader in affordable, storage-agnostic media management software, today announced that they will be demonstrating an end-to-end workflow solution highlighting JMR's latest LightningTM product offerings for the Mac Pro® and SHARE® file server integrated with axle 2017, the latest edition of axle Video's award winning media management software.
The demonstration will take place in the JMR booth SL9027 at this year's National Association of Broadcasters (NAB) exhibition in Las Vegas, Nevada, April 24 – 27, 2017. axle Video will showcase its latest products in booth SL13609.
The joint ingest-to-post-to-delivery demonstration features axle 2017 media management software loaded onto a Mac Pro residing inside the JMR Lightning LTNG-XQ Tower; cataloging media files stored in a high-performance networked JMR SHARE unit. The software, which includes axle's media management browser interface and ingest clients, can quickly find, organize (comment, mark, approve, and annotate) and share media assets from any location. The browser interface will be running on Mac and PC laptops and workstations as well as an iPad via Wi Fi.
Using axle 2017 installed on the Mac clients and GbE or 10GbE network connections to the JMR SHARE file server (3U rackmount, up to 160TB native capacity per unit) allows an unlimited number of users to share files and work on them simultaneously or sequentially with a host of features rivaling far more costly solutions
"Providing axle 2017 in turnkey packages for video editing along with JMR's successful line of Mac Pro/Thunderbolt® certified products provides customers with award-winning media management at very low user cost," said Josef Rabinovitz, president and CEO of JMR. "Combined with JMR's line of Thunderbolt-attached and Network-attached RAID storage systems offers users unparalleled performance-to-cost ratio with browser-based ease of use. axle 2017 also offers integration with Adobe® Premiere® Pro CC and Apple® Final Cut Pro X®, two of the leading NLE software packages on the market."
"Combining axle 2017, our latest media management software with JMR's unique Thunderbolt product offering for the Mac Pro coupled with their high-performance SHARE server affords users unprecedented enterprise level production acceleration to manage assets across the network at a very low cost point," added Sam Bogoch, CEO of axle Video. "The combination of high performance and flexibility at an extremely affordable price is a win-win for all."
The JMR Lightning family of Thunderbolt products includes six models that contain the user's Mac Pro (Gen 6) computer, providing all I/Os from the Mac as well as four PCIe x16 (physical) expansion slots for peripheral cards – along with the easiest integration process of any Mac Pro expansion product in the world. Using two (or optionally, three) Thunderbolt-2 bus connections to the Mac provides dual 20 Gb/s I/O connections to four internal PCIe expansion slots and offers 3-drive (3.5" HDD) or 8-drive (2.5" SSD) RAID mass storage with onboard native storage capacity up to 32TB. The products are available in free-standing and rackmount versions, and offer a number of storage, I/O and network configurations to maximize the expandability of the Mac Pro platform.
The Lightning LTNG-XQ family is available without onboard mass storage or with the 3-drive or 8-drive RAID storage systems, and all are available in whisper-quiet desktop/tower or 4U rackmount configurations
axle 2017 is the latest edition of axle's award-winning media management software, now optimized for media libraries with up to 2 million+ assets. Simply point axle at the media files you want to manage and it automatically creates low-bandwidth proxies you can then access from any web browser. Using our simple browser interface, it's easy to search, comment, mark, approve, and annotate your assets from any location. Your storage can be a SAN, a NAS or just a local RAID, and can be running in a Mac, Windows or Linux environment – all axle needs is to be able to read the file system. For optimal system performance, we recommend running axle on a Mac Pro; all systems must be quad-core or larger. Our new plug-in panel for Adobe Premiere® Pro CC, included with every axle 2017 system, enables editors to search, see previews and begin working on footage without leaving their favorite NLE software.
About axel Video
axle Video (www.axlevideo.com) is the pioneer in developing radically simple software for media management and capture. Its solutions help small to mid-size organizations improve the way they gather, share and archive digital video content, with media management solutions that are easy to install, use and afford. Its radically simple media software uniquely addresses a burgeoning need and has caught on rapidly among video professionals in post-production, education, broadcast, corporate, sports, house of worship, non-profit, advertising-marketing, and government organizations worldwide. At its introduction, axle Video's software was recognized with the IBC 2012 Best of Show award and at NAB 2013 with the prestigious DV Magazine Black Diamond and Post Picks awards. axle Video is a privately held company; its founders have extensive industry experience in media asset management for creative applications. Learn more athttp://app.getresponse.com/click.html?x=a62b&lc=4j70F&mc=JC&s=BvZCNu&u=ymUE&y=y& or call 617-262-9222.
About JMR Electronics
JMR is a leading value provider and systems integrator of scalable storage systems for high performance and capacity driven applications for multiple markets including; video and post-production, military and government, education, VOD, DCC, gaming, security, medical imaging, HPC and Web 2.0. Since 1982, JMR's reliable and innovative RAID systems are proudly made in the U.S.A., manufactured entirely from their Chatsworth, California facilities. JMR's complete line of affordable Lightning™ storage products; SilverStor™ SMB focused products, and BlueStor™ Cloud-ready rackmount and desktop solutions are built to handle the most demanding project needs for A/V centric markets. Reliability. Innovation. Performance. This is JMR. For further information, please visit http://app.getresponse.com/click.html?x=a62b&lc=4j7rk&mc=JC&s=BvZCNu&u=ymUE&y=L& or contact [email protected], or call 818-993-4801.
Acquisition & Production > Motion Capture/Virtual Production
Acquisition & Production > Motion Picture/Film Production
Distribution & Delivery > Encoding
Management & Systems > Digital Asset Management and Storage
Management & Systems > Video/Content Servers/Video Processing
Post-Production > Animation and VFX
Post-Production > Digital Intermediate
Post-Production > Editing
Pro Audio > Audio Editing
Pro Audio > Audio Post-Production/Mastering