New Survey Results Reveal Americans Know What Gifts They Want: The latest OLED TVs, HDTVs, Sound Bars and More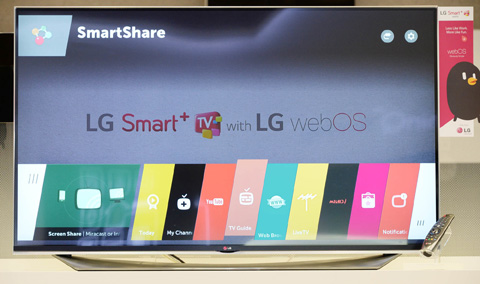 ENGLEWOOD CLIFFS, NJ, Dec. 18, 2014 – Christmas is a week away, and procrastinators are hitting local malls, big-box retailers and department stores in droves to find the perfect gifts for their loved ones. Already deep into the holiday buying season, consumers will likely find crowds, full parking lots and long lines as they embark on their shopping adventure. With that in mind, a new national study of U.S. consumers exposes their holiday buying habits. Making a list and checking it twice might be crucial when shopping for holiday gifts, but knowing what to put on that list is often the real challenge, the random survey of more than 1,000 adults reveals.
According to the Holiday Buying Habits National Survey conducted by Ebiquity on behalf of consumer electronics leader LG Electronics, 83 percent of respondents say that their friends and family provide detail on the gifts they want for the holidays – eliminating the need for guesswork. Of those that receive wish lists, 71 percent of gift givers will buy the product specifically asked for, even if there is a different, better product available. And if you're shopping for a man in your life, it is likely that he has electronics near the top of his list.
Consumers Prefer Technology
Survey results show that consumer electronics continue their popularity as gift items again this holiday season:
In consideration of receiving a gift in the $300-400 range, 121.4 million Americans[1] would prefer an LG Sound Bar versus a fancy dinner out.
Jewelry, a common and often "safe" gift choice, was a less preferred gift to receive (27 percent) compared to a 65-inch 4K Ultra HD OLED TV, which received 45 percent of respondents' preference in the $10,000 to $15,000 category.
While the 4K Ultra HD OLED is preferred by the majority of men (53 percent), a slightly higher proportion of women (36 percent) also preferred this TV over an expensive piece of jewelry (33 percent).
Millennials and Gen-Xers would prefer a 4K OLED TV to expensive jewelry more than their Baby Boomer counterparts (51 percent vs. 37 percent).
"Consumer electronics have always made great holiday gifts. The pace of innovation means there are always new and exciting products being added to the 'must-have' wish lists," said John Taylor, Vice President, LG Electronics USA,  "For Christmas 2015, 4K Ultra HD and OLED TVs top the list, and LG offers a vast product line-up for everyone on your holiday shopping list this year, whether it's for the movie lover, the audiophile or the gamer."
Holiday Spending, Sharing Habits Revealed
Not all shoppers are cost-conscious. Nearly a quarter (22 percent) say they are willing to buy gifts priced at $1,000 or more. Many are also willing to partner with family or friend to share the cost of an expensive gift this holiday season.
High-end electronics (49 percent) represent the second most likely gift that consumers will split the cost of, behind an expensive vacation or trip (54 percent).
Technology and money are top of mind for Millennials and Gen-Xers, and they are more likely to find a partner to share the cost of an expensive electronics purchase than their Baby Boomer counterparts (60 percent vs. 34 percent).
Although a large majority of Americans are open to sharing gift cost (79 percent), the number of those likely to share expensive electronics has declined to 49 percent in 2014 from 56 percent in 2013.
Top Electronics Gift Ideas
Still at a loss for what to buy this holiday season? With the research results as a guidepost, here's a list of top products for the special people on your shopping list.
Smart TV for the Whole Family: 55-inch class (54.6 inches measured diagonally), curved OLED TV WebOS smart TV, LG model 55EC9300 (suggested price: $3,499).
The Future of TV for Videophiles: 65-inch class (64.5 inches diagonal), 4K ULTRA HD Curved OLED TV with webOS, LG model 65EC9700 (suggested price: $11,999).
For the Creative Professional: 34-inch (34.0-inches diagonal) 21:9 Curved Ultra Wide Monitor with Mac compatibility and a modern sleek design, LG model 34UM95 (suggested price: $999).
Great Sound, Small Package: Sound Bar Audio System with Bluetooth and Wi-Fi connectivity, LG model NB3730A (suggested price: $399).
Smart and 3D-Capable: Blu-ray Disc™ player with built-in smart TV streaming apps, LG model BP540 (suggested price: $129).
Learn more about hot gift ideas at www.LG.com and look for holiday savings at select retailers.
The LG Holiday Buying Habits National Survey was conducted online by Ebiquity between Nov. 10 and Nov. 12, 2014 among a total sample of 1,004 U.S. adults. Overall the results have a margin of error of plus or minus 3.1 percentage points at the 95 percent level of confidence.
About Ebiquity, Plc.
Ebiquity are independent marketing performance specialists. Ebiquity enables brands across the world to make better-informed decisions to improve their brand and business performance across integrated communications channels. Learn more at ebiquity.com.