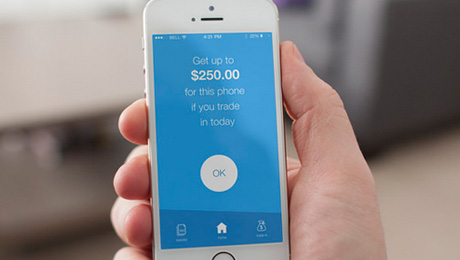 Cambridge, Mass. and CTIA – Sept 3, 2015 – Carriers and wireless retailers have been seeking a way to overcome decreasing smartphone sales and get customers back into stores for upgrades. Inhance Technology is launching a 21st century solution to reinvent the problematic, low-tech trade-in market. The company today announced the first and only cloud-based smartphone trade-in solution called "Inhance Trade."
It combines detailed analytics on in-use smartphones, accurate phone valuations and seamless content transfers from old to new phones. It has also gone live with its first U.S. customer in its 400 retail chain stores this month.
Inhance Trade starts with a cloud-based dashboard that provides visibility into the installed base of mobile smartphone customers showing the age, condition and trade-in value of customers' existing devices. The software also identifies when customers are most likely to buy a new phone and can push in-app mobile notifications directly to their devices, offering them an accurate trade-in deal.
After customers select a new phone, Inhance Trade uses a wireless content transfer feature, which is already being used in more than 2000 retail stores, to facilitate the quick and secure transfer of contacts, images and videos between phones, including iOS and Android. According to Inhance Technology CEO Paul Prendergast, this new service will boost volume of trade-ins by at least 20%. "Inhance Trade adds a layer of sophisticated mobile analytics that gives carriers and wireless retailers a smarter way to reach out to customers and build connections by offering cash for old mobile phones and new enticing upgrades.
"We designed this as a complete solution," he explained. "The phone trade-in function was overdue for modernization given the well-documented trade-in process problems such as mispricing used phones, issues transferring content and poor customer outreach. Many existing programs are often unprofitable but now our solution enables retailers and carriers to use data from past sales and get previous customers back into their stores for a new purchase.
Inhance Technology is working with market leading trade-in companies including Phobio, C- Exchange and Nextworth; and has recently partnered with electronics distributor Ingram Micro Canada.
Inhance Technology will unveil Inhance Trade for the first time at CTIA, Las Vegas on September 9-11. Visitors to Inhance Technology's Booth #3768 (in the Networked Society area) will get to see the solution firsthand. For further information email sales@inhancetechnology.com.