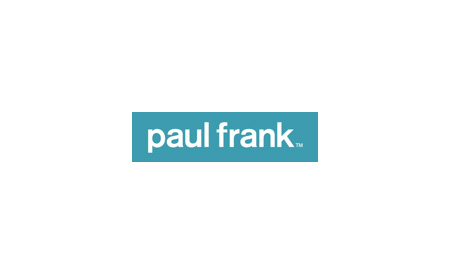 NEW YORK, NY (June 9, 2015) – Saban Brands today announced the expansion of Paul Frank in China through a strategic, long-term licensing agreement with Grand Union International Trading Co. Ltd. With this comprehensive partnership, Grand Union International Trading Co. will serve as Paul Frank's master licensee and retailer in China, Hong Kong and Macau and will manufacture and distribute a wide range of Paul Frank product from fashion-forward apparel to accessories and more.
Saban Brands has been working with the team at Grand Union International Trading Co. ever since the company acquired the Paul Frank brand in 2010, and the continuously successful partnership has led to this new agreement. This marks the largest licensed deal in Paul Frank's history, and further supports the brand's significant growth in China. There are currently more than 100 stand-alone Paul Frank stores throughout China, with plans to expand to more than 500 retail stores during the terms of the agreement. The partnership also coincides with the near-future development of new store concepts, Paul Frank Kids and Paul Frank Home. Additionally, Grand Union International Trading Co. will have the licensed rights to all future Paul Frank-branded cafés in the market.
"Paul Frank has seen tremendous growth in China with high consumer demand for the brand's colorful, fun and fashion-forward product," said Kirk Bloomgarden, Senior Vice President of Global Consumer Products for Saban Brands. "The Grand Union team has been instrumental in helping us build the Paul Frank brand in China over the past few years, and their success to date proves that they are the right partner to help us further grow Paul Frank's footprint."
Dave Qian, CEO of Grand Union International Trading Co. said, "We love Paul Frank and are eager to take this iconic brand to the next level. Chinese consumers have such a passion for Paul Frank and its core character, Julius the monkey. With this partnership, we are committed to offering new and unique Paul Frank products and experiences."
To launch this extended partnership, Grand Union International Trading Co. will be hosting a Paul Frank 20th Anniversary exhibit, starting this July. The exhibit, which will travel to multiple mall locations throughout China, will take fans on a journey through the history of Paul Frank through photos, original drawings, videos and classic product to bring the 20-year history of the iconic brand to life.
For more information, follow Paul Frank on Facebook, Twitter, Instagram, Pinterest, YouTube and Tumblr.
###
About Paul Frank
Paul Frank is a globally recognized, iconic fashion and lifestyle brand, which features artistic and entertaining designs for the young and young at heart. Acquired in 2010 by Saban Brands, the Paul Frank brand was born in 1995 out of a garage in a Southern California beach town. By creating relationships through exciting collaborations and strategic licensing partnerships, Paul Frank merchandise includes apparel and accessories for all ages, across categories such as books, stationery, eyewear, home décor, bicycles and more. To see what's new at Paul Frank, visit www.paulfrank.com.
About Grand Union Trading Co. Ltd.
Grand Union Trading Company, Limited was founded in 1995 and is located in Hong Kong. The Company's line of business includes the wholesale distribution and manufacturing of women's, children's, and infants' clothing and accessories.
###
Information contained on this page is provided by companies via press release. YBLTV makes no warranties or representations in connection therewith.