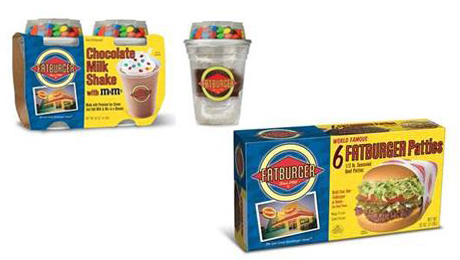 Gourmet Burger Brand Develops Complete Collection of Branded Merchandise and Frozen Foods
LOS ANGELES (June 10, 2015) – Fatburger, famous for its juicy, made-to-order burgers will be presenting with licensing partner UltraBrandz at Licensing Expo 2015 from June 9th to June 11th at Mandalay Bay Convention Center in Las Vegas. As a result of the success that their line of branded Fatburger frozen beef patties had at over 3,000 Walmart locations, the iconic burger brand is once again partnering with UltraBrandz to bring an exclusive line of licensed merchandise and additional frozen foods to the market.
The new products aim to create a brand for America's favorite pastime, bringing memories of mid-summer barbecues to homes across the U.S. The iconic burger brand's full collection of exclusive products will include condiments, grills, grill accessories, and apparel. Several frozen food items are also in development including turkeyburger patties, grilled chicken sandwiches, skinny fries, fat fries, curly fries, onion rings, chili cheese fat fries, milkshakes, and more.
"At the Licensing Expo this year, we intend to meet new potential partners that can work with us to bring our extensive product line to Fatburger fans nationwide," said Fatburger CEO Andy Wiederhorn. "Our collection of merchandise and frozen foods will allow us to extend the reach of our brand even further, and bring our legendary, juicy burgers to new places."
Fatburger will be located in the Brands & Agents section of Licensing Expo 2015 at booth number H37. For more information on Fatburger, please visit www.fatburger.com and for more information on Licensing Expo 2015, please visitwww.licensingexpo.com.
About Fatburger
An all-American, Hollywood favorite, Fatburger is a fast casual restaurant serving big, juicy, tasty burgers, crafted specifically to each customer's liking. With a legacy more than 62 years old, Fatburger's extraordinary quality and taste inspire fierce loyalty amongst its fan base, which includes a number of A-list celebrities and athletes. Featuring a contemporary design and ambience, Fatburger offers an unparalleled dining experience, demonstrating the same dedication to serving gourmet, homemade, custom-built burgers as it has since 1952 – The Last Great Hamburger Stand™.
###
Information contained on this page is provided by companies via press release. YBLTV makes no warranties or representations in connection therewith.