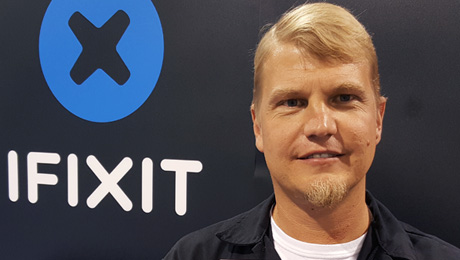 The guys at iFixit have provided a savvy tech update to the old "give a man a fish, he'll eat for a day but teach a man to fish he'll eat for a lifetime…" adage. Utilizing what must be one of the most altruistic business models in existence, iFixit gives all of the power to the often helpless consumer who, faced with a cracked screen on their iPhone, is usually brought to tears with hopeless frustration and anguish. Never again, if iFixit has anything to do with it! Your smartphone isn't charging and you have no idea why so you feel there's no other option but to buy a brand new one at full retail price? Never again, says iFixit. I'm willing to bet this company will turn the old mechanic/consumer power dynamic completely on its head before those exorbitantly priced computer repair shops know what hit 'em.
So what exactly does this company of veritable superheroes do? Well, it's simple. The iFixit website is set up to provide all of the tools, literally and figuratively, needed to repair any number of consumer electronic devices from tablets, smartphones, PCs, game consoles, even automobiles and cameras! They do this in two ways: First, they provide the manuals to fix the devices for free (not only does the company upload these step-by-step manuals, but they also allow the consumers to do so as well, providing a truly democratic experience). Second, their store sells all of the physical tools and parts necessary to complete the job found in the manuals.
So how easy is it? Really? Well, my HTC One (M8) clearly had a bad battery so I needed to replace it. I went to the site, clicked on Guides, clicked on Android, found my brand (HTC) and then my exact phone. Voila! I found a guide on my phone's page telling me exactly how to replace the battery (I can't vouch for every single type of phone but I saw almost every brand imaginable under the Android heading). Then, using the tools found on iFixit (tools so specific I would have never been able to find them elsewhere with my limited tech knowledge) like the t5 Torx screwdriver, the iOpener for melting glue, or rubber-tipped tweezers, I slowly and carefully completed the step by step process. Now, by no means was it a quick or even a very easy process, but one motivating factor that kept the job fun was saving hundreds of dollars I'd be paying someone else to do this job when I completed it all in about an hour and a half. Perhaps more importantly, now that I've done this once, I feel empowered to fix my other devices if problems should arise–fixing a complex tech device just doesn't seem to be one that's out of my reach. And that's why iFixit has a sure-footed future in the tech world!
For more info, please visit iFixit.