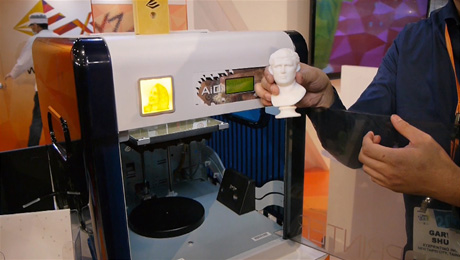 At this year's International CES Show in Las Vegas, NV, YBLTV met XYZprinting, Inc. and learned about their comprehensive 3D printing solutions.  XYZ's Market Development Division, Senior Manager, Gary Shu showed us their da Vinci Jr. 3D printing is a bit new to me, but it certainly is growing in popularity within the industry. CES saw a remarkable increase in the number of 3D printing exhibitors from last year's show.
About XYZprinting, Inc.
Founded in 2013, XYZprinting is dedicated to bringing cost-effective 3D printing to personnel and business around the world. With proven industry expertise and an innovative spirit, XYZprinting is poised to break down the barriers of 3D printer ownership by providing an easy-to-use device that delivers an outstanding user experience.
XYZprinting is backed by world's leading electronic manufacturing conglomerate— Kinpo Group, which earns more than $30 billion revenues annually and has more than 8,500 engineers in research and development across four continents. Kinpo Group has more than 15 years of experience developing and manufacturing printers for both personal and commercial use.
XYZprinting's first printer, da Vinci 1.0, won the CES 2014 Editors' Choice Award for being the most approachable and affordable 3D printing machinery. It was also recognized by Tom's Guide Readers' Choice Award in the same year.
Currently we have offices in China, Japan, the United States and Europe.