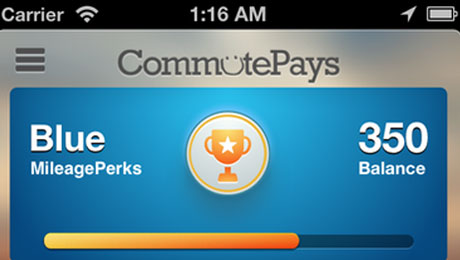 CommutePays' MileagePerks™ Enables Rich, Targeted Advertising as a Location-Based Service Mobile App Program for Commuter Loyalty Redemption
SAN FRANCISCO – CommutePays, a leading loyalty and rewards mobile app for commuters, today announced the commercial release of its service, MileagePerks™ which provides goods and services for commuters who join the company's network through its iPhone and iPad app and, soon, an Android version. CommutePays has integrated radio and outdoor advertising units into its app to reward commuters with redeemable points for goods at a wide range of companies, including quick service restaurants; retailers and other partners seeking to increase loyalty from frequent commuters and business people.
To download the CommutePays app, go to: https://itunes.apple.com/us/app/commutepays-traffic-alerts/id456339972?ls=1&mt=8
CommutePays has closed $1,100,000 round of funding, from private individuals, and graduated from the Rocket Space Accelerator program.
CommutePays keep track of miles and points accrued, and even rewards commuters for being stuck in traffic.
CommutePays users can, for example, redeem points accrued during commutes for food and prizes at restaurants, whose ad partners can brand CommutePays tiles within the app, and deliver customized messages, as well as deliver audio or video clips for bonus miles. Other concepts, including map placements and in-store prizes unlocked at specific locations, enhance same-store traffic for retailers in the CommutePays program.
CommutePays targets the estimated 100 million commuters in the United States who travel more than 45 minutes daily, either by car or by public transportation. According to the U.S. Census Bureau's American Community Survey (ACS), 20% of all trips taken in the U.S. involve commuting.
"We view commuters as mobile warriors who are both a captive audience and a fiercely loyal audience, and CommutePays leverages these essential elements to create a true loyalty network for the commuter class," said Shahir Ahmed, founder and CEO of CommutePays. "CommutePays is designed as a location-based live gamification engine, and together with our partners, we can reward consumers at a very high level with retailers whose message is tailored to the loyal mobile commuter."
About CommutePays
Based in San Francisco, CommutePays is the ultimate loyalty and rewards mobile app for commuters. The company is a member of the Rocket Space incubator, and is privately funded. For more information, visit the company web site at www.commutepays.com.
###
Information contained on this page is provided by companies via press release. YBLTV makes no warranties or representations in connection therewith.